The utility sector is transforming at an ever-accelerating pace, and San Diego Gas & Electric (SDG&E) is staying at the forefront of that transformation, contracting for five new energy storage projects, including one from AES Energy Storage, to provide much-needed flexibility on its local grid. Building on its first large-scale energy storage projects, SDG&E announced April 21st that, upon California Public Utilities Commission approval, it is procuring an additional 83.5 megawatts (MW) of battery-based energy storage as well as demand response resources for its service area – including another 40 MW, four-hour duration Advancion energy storage array.
Earlier this year, AES Energy Storage completed the single largest lithium ion battery-based grid energy storage array in the world. A 30 MW, four-hour duration system, located in Escondido serving San Diego Gas & Electric. Now, just a few months later, we are excited to announce a new Advancion array that is 33% larger. Just another sign of the accelerating move toward storage as a clean, flexible resource for modern power systems.
Through its leadership, SDG&E is leading the way in building the new energy network – prioritizing storage to make the grid cleaner, stronger and more flexible, accelerating the integration of renewable generation and reducing costs.
Our newest Advancion project with SDG&E will deliver an additional 40 MW of peak capacity, equivalent to 80 MW of flexibility, to communities in the San Diego region, reinforcing its commitment to ensuring the highest level of reliability and delivering more clean energy for its customers. SDG&E is no stranger to delivering clean energy resources at scale – with an estimated 43 percent of its supplied energy drawn from renewable resources, primarily wind and solar – and its investments in storage will offer much-needed flexibility to bring even more clean energy to its customers.
Storage as flexible capacity at scale
From 2007, when we deployed the first utility-scale battery storage on the grid, AES Energy Storage has focused on using battery-based energy storage to solve real grid issues at scale. Since 2008, we have been helping California's utilities and stakeholders integrate energy storage into their grid, and today have integrated energy storage into 10 different power markets in six countries.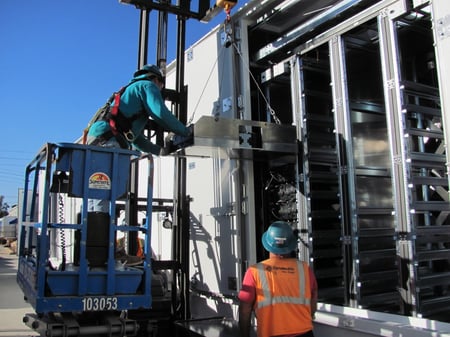 With this project and others announced today, SDG&E will meet its storage procurement target of 165 MW by 2020, set in 2013 by the California Public Utilities Commission. These fast, flexible resources, some of which have already been commissioned, are offering a cost-effective solution for meeting these targets, allowing SDG&E to integrate additional renewable generation and maintain system reliability, while reducing the need for more fossil fuel peaking power plants. We believe that these initial targets are just the beginning for what storage resources California and other markets will ultimately put onto the grid.
A model for other markets
Utilities and operators around the world are increasingly seeing storage as a proven, reliable and economically viable real-time resource for stabilizing the electric grid. California's accelerated integration of storage showcases the ability of energy storage and suppliers like AES Energy Storage to meet critical grid needs in a matter of months, not years. Utility-scale battery-based energy storage systems like Advancion are now being considered by many utilities as prudent alternatives to new flexible generation, upgrading transmission lines, and reinforcing distribution circuits.
The advancement of storage by energy markets like California and companies like SDG&E has provided a procurement and deployment model that others can follow, prudently building a market that attracts the best new solutions to serve customers.
A proven platform – Advancion Energy Storage
Awarded on the heels of the successful deployment of two other SDG&E Advancion installations earlier this year, we're proud to provide another Advancion energy storage array that will help SDG&E meet its storage goals. Advancion is the product of 10 years of experience deploying and operating energy storage systems for utility use, an energy storage platform that meets the immediate needs of utilities like SDG&E, and is built to deliver value throughout its 20+ year life.
But I put to you that SDG&E's announcement makes a bigger point — that longer-duration storage is increasingly becoming an essential component for transforming our electric power system. A recent IHS Markit study found that the U.S. electric grid has enough storage to provide power for only 20 minutes, a tiny fraction of the storage other key systems like our transportation and data networks have.
Adding more storage to the system makes the infrastructure we have more efficient, makes the grid more flexible and resilient, and makes it easier and more cost-effective to meet the immediate and future needs of a rapidly changing energy landscape. With today's announcement, SDG&E is taking another big step towards giving southern California the flexibility it needs, and we couldn't be prouder to help them on that journey.
The full press release for SDG&E's announcement is available here.