- PRESS RELEASE -
Melbourne, Australia – 23 February, 2022 – Telstra Energy and Fluence (Nasdaq: FLNC) today announced the deployment of the Fluence IQ Bidding Application to optimise the performance of the 232 MW Murra Warra 1 Wind Farm in Victoria and the 88 MW Emerald Solar Park in Queensland.
Murra Warra 1 and Emerald Solar Park, which both have long-term power purchase agreements to supply clean energy to Telstra Energy and their offtake partners, have chosen to upgrade their existing ground-breaking internally developed automated dispatch system by adopting the Fluence IQ Bidding Application to further maximise generation during favorable market conditions and avoid generation during periods of oversupply and negative prices.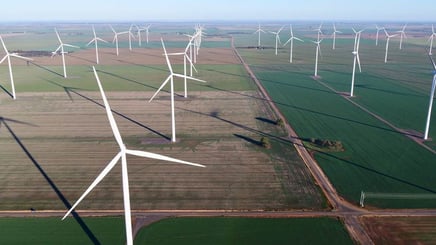 The Fluence IQ Bidding Application analyses thousands of variables to provide leading price forecasting and optimisation using proprietary machine learning algorithms, enabling renewable asset owners and operators like Telstra Energy to optimise bidding and dispatch in Australia's National Electricity Market (NEM). The resulting market-compliant bids can increase revenue for wind and solar asset owners and operators by up to 10% over a 12-month period.
"We are very pleased to be working with Telstra Energy to maximise the performance of two of its key sources of clean energy and providing them a solution to navigate the volatility and complexities of Australia's energy market. The NEM's shift to 'five-minute settlement' last year, where the market is both dispatched and settled at five-minute intervals, requires renewable energy assets to have extremely accurate price forecasting abilities to ensure they avoid any adverse pricing events. The Fluence IQ Bidding Application helps renewable energy assets overcome this challenge. The deployment of AI-based trading platforms such as ours will play a critical role in assisting the transition towards clean energy generation and the viability of large-scale renewable assets," Fluence's Chief Digital Officer Seyed Madaeni commented.
Located in North Western Victoria, Murra Warra 1 is currently undergoing an expansion to add a second stage that on completion will see its 99 wind turbines produce more than 1,800 GWh annually -- enough electricity to power about 420,000 average homes each year.
Emerald Solar Park, located in the Central Highlands Region of Queensland, has been generating since late 2018, making a positive contribution to the NEM by producing enough low-carbon energy to power approximately 35,000 average homes.
About Fluence
Fluence (Nasdaq: FLNC) is a global market leader in energy storage products and services and digital applications for renewables and storage. With a presence in 30 global markets, Fluence provides an ecosystem of offerings to drive the clean energy transition, including modular, scalable storage products, comprehensive service offerings, and the Fluence IQ platform, which delivers AI-enabled digital applications for managing and optimizing storage and renewables. The company is transforming the way we power our world by helping customers create more resilient and sustainable electric grids. For more information, please visit fluenceenergy.com.
Forward-Looking Statements
The information in this press release includes a "forward-looking statement" within the meaning of Section 27A of the Securities Act and Section 21E of the Securities Exchange Act of 1934, as amended. All statements, other than statements of present or historical fact included in this press release are forward-looking statements, including, without limitation, the operational performance of the bidding application and Fluence's ability to maintain a customer relationship with Telstra Energy.
These forward-looking statements involve significant risks and uncertainties that could cause the actual results to differ materially from the expected results. Most of these factors are outside Fluence's control and are difficult to predict. Factors that may cause such differences in expected results include but are not limited to the following: Unforeseen circumstances outside of Fluence's control may cause delays in integration of the bidding application which may impact deployment. Fluence cautions that the foregoing list of factors is not exclusive.
Except as otherwise required by applicable law, Fluence disclaims any duty to update any forward-looking statements contained in this press release, all of which are expressly qualified by the statements in this section, to reflect events or circumstances after the date of this press release. Should underlying assumptions prove incorrect, actual results and projections could differentiate materially from those expressed in any forward-looking statements.
Media Contact
Adele Zhang
Head of Marketing & Communications, APAC
+61 406529688
Adele.zhang@fluenceenergy.com
Investor Relations
Samuel Chong
VP, Treasurer & Investor Relations
+1 872-301-2501
Lexington May
Sr. Manager, Investor Relations
+1 713-909-5629