Fluence is supporting Lithuania's clean energy transition and grid modernization with industry-leading energy storage products as virtual transmission assets. Lithuania's EPSO-G, a state-owned group of transmission and exchange companies that includes Litgrid – the Transmission System Operator (TSO) – and Energy Cells – an institution tasked with managing energy storage facilities – is a trailblazer in Europe and globally by procuring its first large-scale transmission-connected energy storage portfolio.
Lithuania's system of electricity storage facilities is essential to ensure the security of the country's energy system and its ability to operate in an isolated mode. The energy storage system will provide Lithuania with an instantaneous isolated electricity reserve until synchronization with the continental European networks.
At the end of July 2021, the Government of the Republic of Lithuania appointed Energy Cells as the operator of the instantaneous isolated operation electricity reserve for the country's electricity storage facilities and entrusted it with the management of the electricity storage facilities system. Together with Fluence and Siemens Energy, Energy Cells is deploying a 200 MW portfolio of "Storage-as-a-Transmission Asset". The four 50 MW projects underline the ability of energy storage assets to increase grid stability. During the first phase, which runs until 2025, the energy storage assets will provide emergency reserve by assuring back-up active power for the isolate mode regime. From the beginning of the second stage (i.e., post-2025), the battery-based energy storage system will deliver a full scope of services, including balancing services and virtual inertia.
As the world transitions to cleaner energy systems, highly flexible, scalable, and fast-to-deploy energy storage assets can act as the enablers of greater grid resiliency. TSOs across the globe have already started taking important steps in recognizing the value of battery-based energy storage that delivers–advanced controls, long-term performance, and meets the highest safety and reliability requirements.
Another First: Storage Commercially Procured by TSO to Support the Transmission Network
The Energy Cells storage portfolio is not only the first energy storage asset on Lithuania's transmission system, but also one of the first in the world to be directly procured by a TSO affiliate to provide transmission-enhancing services.
The portfolio will be built with Fluence's Gridstack™, based on its award-winning energy storage products and technology. With advanced controls capabilities and ultra-fast response time (<200 milliseconds), the technology can stabilize, strengthen, and support transmission systems as low-emission and inverter-based generation creates new system operation and infrastructure challenges. Fluence's products meet the most demanding applications – synthetic inertia, blackstart, power oscillation damping, and voltage control mode. Supported by continuous investment in R&D, Fluence is working closely with system operators across the world to advance its technology, software, and solutions to meet the unique needs of transitioning grid networks.
A New Solution for Changing Grids: Energy Storage with Advanced Controls Capabilities
To reach European emission reduction goals, the European Commission has proposed to increase the renewable energy target to 40% by 2030, following a similar trajectory in markets globally. This is forcing system operators to identify new ways to procure inertia and other system support capabilities. Battery-based energy storage systems are already proving capable of providing essential transmission enhancement services.
For the past century, the operators of power grids have relied on synchronous generators (SGs) to provide critical support for the system. SGs generate alternating current from a rotating mass – a motor, engine, etc. (e.g., coal, natural gas, and hydrogeneration facilities).
The large rotating masses in SGs store energy are known to create inertia. In the event of a contingency on the transmission system, the energy stored within these rotating masses across the electricity grid is released within milliseconds, providing a dynamic response to changing conditions on the system including deviations in frequency and voltage, arresting dangerous changes until other assets detect and respond to the failure.
As coal and natural gas power plants retire or become uneconomic and more cost-effective clean energy resources come online, SGs are being replaced with technologies that do not include a rotating mass. The increasing integration of renewables in the energy mix might mean that there will not be sufficient inertia on the system to accommodate them while retaining system stability. This forces TSOs to look for new ways of maintaining grid stability while simultaneously supporting its decarbonization.
Battery-based energy storage systems are capable of stacking multiple critical value streams. This offers an alternative approach to planning and operating transmission systems through the energy transition. With highly integrated controls from the battery modules to the inverters, energy storage provides critical capabilities to increase system resilience and stability:
Synthetic inertia to the local grid to mimics the capacity of a Synchronous Generator
Blackstart in the event of a major system contingency and outage
Voltage support to increase local system strength
Power oscillation damping to ensure the system consistently operates in a safe and stable manner
Lithuania is an ideal place to highlight the capabilities of battery-based energy storage – both in terms of accommodating deployment of clean, non-synchronous generation and reinforcing transmission infrastructure.
EPSO-G Group will employ Fluence OS controls software to meet the evolving needs of a transitioning grid. By 2025, four 50 MW storage assets will provide contingency event and blackstart support. As clean energy penetration increases, the storage system will transition to provide more advanced reliability services, such as synthetic inertia and power oscillation damping. The flexible Fluence OS architecture is designed to adapt, allowing Lithuanian TSO to meet the needs of these changing grid services and maximize grid support. The flexible controls software uses integrated logic to stack multiple real and reactive power applications and seamlessly transition from one grid service to another.
First in a Long Line
Litgrid is an innovative TSO looking to advanced technologies to tackle the most pressing challenges facing the grid but is by no means the only transmission operator actively pursuing transmission-enhancing applications of energy storage. Across continents and market structures, transmission operators are turning to energy storage to stack multiple transmission-enhancing services and accelerate the capacity of the grid to integrate inverter-based, renewable resources.
Global Interest in Storage as Transmission-Enhancing Asset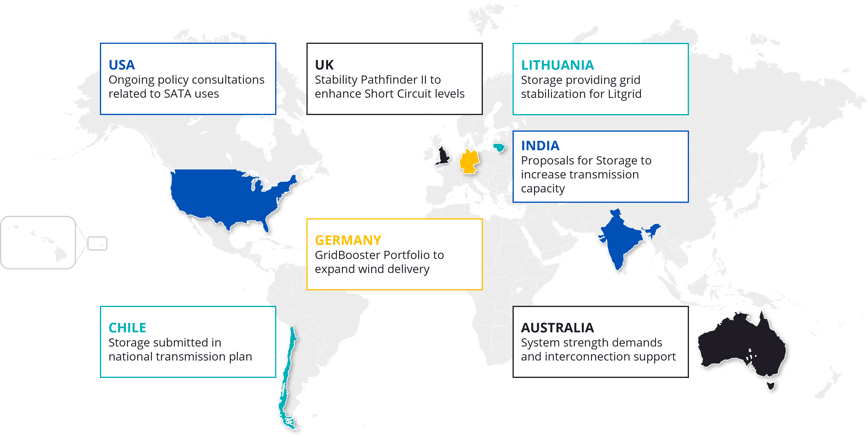 Regulatory Certainty Drives Reliability and Growth
As the use of energy storage to enhance transmission system functionality accelerates globally, the industry is at a critical crossroads. Regulators, transmission owners, operators, and other industry stakeholders must engage to define system needs, standard technical requirements, and consistent specifications for assets providing transmission-enhancing services. While important consultation proceedings are ongoing, the Federal Energy Regulatory Commission (FERC) in the US, European Network of Transmission System Operators for Electricity (ENTSO-E), Australian Energy Market Operator (AEMO), national regulators, and other industry stakeholders from every energy market must work together to define standard requirements and engage in cross-border collaboration to share best practices and lessons learned to accelerate deployments and the broader energy transition.
Standardized Requirements: Transmission operators across global markets must align on standardized technical specifications and requirements for storage controls and performance.
Storage is Network Infrastructure: Transmission operators and lead regulators in the EU and other markets must clarify and expand the definition of network assets to include energy storage providing transmission-enhancing services. This will ensure the TSOs, which are best-positioned to procure their needs directly, are able to do so in the same manner as any other conventional infrastructure equipment.
Proper Asset Evaluation: Transmission operators must work closely with industry partners to evaluate energy storage as a critical infrastructure asset. This includes valuing reliability and resilience over cost, selecting the "best" solution to meet the need (not the "least cost" solution), and establishing clear and transparent procurement and lifetime services requirements.
Multi-Use Assets: As the first truly digital asset on the grid, battery-based energy storage is capable of multi-tasking across multiple market-based value streams. Energy storage assets used to support transmission systems should be allowed to participate in competitive markets at times when they are not being used by TSOs with due respect given for local market structures and the avoidance of market distortion. The alternative is underutilization, increased costs, and inefficient assets.
Over the past five years, storage has begun to change the way we power our world, enabling greater integration of renewable generation assets and advancing decentralization and digitalization of power networks. Over the next five years, storage will increasingly change the way we operate and control our transmission systems, accelerating delivery of clean energy and ensuring grid stability.
Establishing regulatory certainty is critical to unlocking the value of Fluence's advanced controls, services packages, and lifetime performance, all specifically designed to meet the needs of TSOs.
ABOUT FLUENCE
Fluence, a Siemens and AES company, is a global market leader in energy storage products and services, and digital applications for renewables and storage. The company has more than 3.4 GW of energy storage deployed or contracted in 29 markets globally, and more than 4.5 GW of wind, solar, and storage assets optimized or contracted in Australia and California. Through our products, services and AI-enabled Fluence IQ platform, Fluence is helping customers around the world drive more resilient electric grids and a more sustainable future. For more information about Fluence, please visit: fluenceenergy.com