Siemens recently took part in a ground-breaking for a new energy storage project in Schwarzheide, near Dresden, Germany. For this project, Siemens, a Fluence customer, will use a SIESTART energy storage solution with a Fluence battery energy storage system. The energy storage will provide black-start capability for a natural gas power plant, ensuring it can be quickly ramped up at any time. You can read the full release in English below, or in German here.
- PRESS RELEASE -
Siemens to modernize industrial power plant from BASF in Germany with key components
HOUSTON, May 29, 2019
Replacement of gas turbine from another OEM with an SGT-800
Installation of a SIESTART battery storage solution for blackstart capability
Customized solution requires comprehensive engineering expertise
Siemens has received an order from BASF Schwarzheide GmbH, a wholly owned subsidiary of BASF SE, to modernize the industrial power plant in Schwarzheide, Germany with key components. The Brownfield Exchange project involves replacing a gas turbine from another original equipment manufacturer (OEM) with a new, highly efficient industrial gas turbine from Siemens as well as servicing this machine for a period of 15 years. In addition, Siemens will install a SIESTART battery storage
solution that will enable the entire power plant to start up independently of an external power supply.
The BASF combined cycle power plant in Schwarzheide went into operation in 1994. At the heart of the plant are two industrial gas turbines from another OEM as well as two industrial steam turbines from Siemens. In addition to electricity, the plant especially provides process steam needed for the production plants at site. As part of the power plant modernization, Siemens will replace one of the two existing industrial gas turbines by an SGT-800 gas turbine with a capacity of 57 megawatts (MW). The significantly higher efficiency of the new gas turbine means that less natural gas needs to be burned for the same amount of electricity, thus lowering fuel costs and CO2 emissions.

"We are pleased that BASF has placed its trust in Siemens to carry out this Brownfield Exchange project," said Thorbjörn Fors, CEO of the Service Distributed Generation and Oil & Gas within Siemens Gas and Power. "Adapting the new gas turbine to the existing plant and carrying out the other necessary renovations require complex individual planning and extensive engineering expertise. Siemens is one of the few suppliers on the market with all the manufacturing and engineering skills needed to reliably implement such a demanding project."
"We are pleased to work with Siemens for the modernization of our combined cycle power plant. We continue our long-term partnership with this project." said Jürgen Fuchs, Chairman of the Management Board of BASF Schwarzheide GmbH.
For the SIESTART solution Fluence Energy, a company of Siemens and AES, is providing a battery energy storage system. This will ensure that the power plant can be started at any time independently of an external power supply. This blackstart capability will enable BASF to start up the plant at any time and produce necessary electricity and process steam.
Today's power producers depend on maximum availability of their power plants. Beside the need for blackstart capability, they need to quickly respond to fluctuations in power demand. They also must be able to shift to island operation to ensure an independent power supply when needed. While modern combined cycle plants can already handle high load changes in just a few minutes, the fluctuating infeed of renewable energy and unforeseen incidents require even shorter response times. The challenge is to meet these standards and at the same time reduce emissions and costs. SIESTART hybrid solutions serve as ideal back-up for instant power supply at the push of a button and help to significantly improve power supply reliability.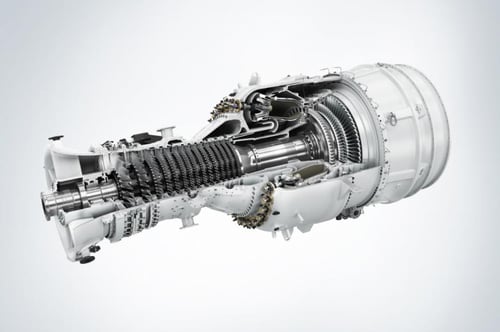 SGT-800 industrial gas turbine
An SGT-800 industrial gas turbine from Siemens with a capacity of 57 megawatt will enable low fuel costs and CO2 emissions at the BASF power plant Schwarzheide, Germany thanks to its high efficiency.
This press release and a press picture are available at www.siemens.com/press/PR2019050273GPEN
For further information on Siemens Gas and Power, please see www.siemens.com/energy
For further information on the SGT-800 gas turbine, please see https://new.siemens.com/global/en/products/energy/power-generation/gas-turbines/sgt-800.html
For further information on SIESTART solutions, please see https://new.siemens.com/global/en/products/energy/power-generation/power-plants/siestart-hybrid-solutions.html
Contact for journalists
Susanne Weissmann
Phone: +49 9131 17-37750; E-mail: susanne.weissmann@siemens.com
Follow us on Twitter at: www.twitter.com/siemens_energy
Siemens Gas and Power (GP) is a global pacesetter in energy, helping customers to meet the evolving demands of today's industries and societies. GP comprises broad competencies across the entire energy value chain and offers a uniquely comprehensive portfolio for utilities, independent power producers, transmission system operators and the oil and gas industry. Products, solutions and services address the extraction, processing and the transport of oil and gas as well as power generation in central and distributed thermal power plants and power transmission in grids. With global headquarters in Houston in the U.S. and more than 64,000 employees in over 80 countries, Siemens Gas and Power has a presence across the globe and is a leading innovator for the energy systems of today and tomorrow, as it has been for more than 150 years.
Siemens AG (Berlin and Munich) is a global technology powerhouse that has stood for engineering excellence, innovation, quality, reliability and internationality for more than 170 years. The company is active around the globe, focusing on the areas of power generation and distribution, intelligent infrastructure for buildings and distributed energy systems, and automation and digitalization in the process and manufacturing industries. Through the separately managed company Siemens Mobility, a leading supplier of smart mobility solutions for rail and road transport, Siemens is shaping the world market for passenger and freight services. Due to its majority stakes in the publicly listed companies Siemens Healthineers AG and Siemens Gamesa Renewable Energy, Siemens is also a world-leading supplier of medical technology and digital healthcare services as well as environmentally friendly solutions for onshore and offshore wind power generation. In fiscal 2018, which ended on September 30, 2018, Siemens generated revenue of €83.0 billion and net income of €6.1 billion. At the end of September 2018, the company had around 379,000 employees worldwide. Further information is available on the Internet at www.siemens.com.