Energy storage is a rapidly emerging grid infrastructure asset. Getting the most value out of these systems over a 10 to 20-year lifespan requires greater operator knowledge across the industry. To help build this knowledge, Fluence has launched Fluence Academy, an online training platform available to Fluence customers to enhance their energy storage safety, operations, and maintenance expertise. With the recent release of Fluence Academy, we wanted to take the opportunity to share additional insights into the some of the challenges facing our industry and the benefits this platform provides to our customers.
Rapid Growth Creates New Challenges and Opportunities
Electric power markets around the world are undergoing significant structural change. As more intermittent renewable resources are deployed, battery-based energy storage systems are playing a pivotal role in enabling this energy transition in a reliable, scalable manner. According to the latest report from BloombergNEF (BNEF), global energy storage installations are forecast to total 358 GW/1,028 GWh by the end of 2030, more than 20 times greater than the 17 GW/34 GWh online at the end of 2020. Regional regulations are supporting this transition. Just recently, India's Central Electricity Authority projected the market for battery energy storage systems to grow to 27 GW/108 GWh by 2030. Energy storage will be a key enabler to achieve India's climate goal of 450 GW of renewable capacity addition by 2030. On the other side of the world in the United States, the California Independent System Operation (CAISO) hit a huge milestone on May 2, 2022 with 99.87% of load in the state served by all renewables.
As is the case with most emerging technologies, rapid storage growth creates unique challenges and opportunities for project developers, owners, and operators. The solar industry offers insightful parallels. When that industry started undergoing massive growth in the late 2000's, there was an immense amount of education required within the industry – How does rooftop solar affect the fire safety approach of the building? What are the building codes and standards in the city, and how are they different from other cities? Today, there is a wide availability of training and documentation to answer these questions, among many others, in the solar industry. Energy storage is at a similar inflection point as seen in Figure 1 (U.S. Energy Information Administration 2020), so it's imperative for the industry to invest in similar tools, trainings, and resources to build overall technology and operator knowledge.
Figure 1: US battery storage capacity up 35% in 2020, rapid growth set to continue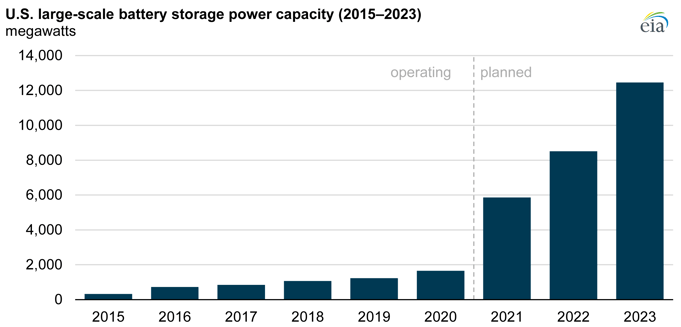 Source: U.S. Energy Information Administration, Preliminary Monthly Electric Generator Inventory, December 2020

Understanding how to manage and maintain energy storage systems and technologies is critical for the utilities, developers, and power producers building large fleets of assets. These systems have extensive cooling requirements to ensure optimal operating conditions, comprehensive safety features integrated throughout each layer of the system, bi-directional charge and discharge capabilities, power conversion systems, distributed controls, telecommunications equipment, and more.
This complexity is further compounded by a few areas where the traditional method of onsite, instructor-led training can be limited:
Much like energy storage assets - which can be distributed across urban (such as Los Angeles, California) and rural (such as the Atacama Desert) areas - companies can be highly dispersed as well. Coordinating centralized, in-person trainings with people and teams that come from a variety of locations can be expensive and challenging.
Consider the differing stakeholder needs across organizations and communities. A first responder is focused on system-wide safety features and associated hazards, whereas an operator is focused on preventative and reactive maintenance. While there may be some overlap across teams and functions, training material tailored towards specific audiences allows for a more efficient delivery model.
Onsite trainings have many strengths that should not be overlooked. Hands-on experience and face-to-face training can provide greater clarity and understanding for trainees as well as enable employees to connect with one another for a stronger sense of collaboration. The current growth in energy storage requires complementary channels for both in-person and on-demand training and knowledge-sharing to keep up with the needs and scale of the industry.
Closing the Gap with Fluence Academy
Fluence is 100% focused on driving the clean energy transition and brings deep understanding of energy storage systems and operations. Fluence Academy, our new, online training platform, enables Fluence customers to manage their own training more effectively, at their own convenience and pace. Accessible on demand, this platform reduces scheduling conflicts or bottlenecks that may arise when planning in-person sessions, as well as the associated travel expenses. Fluence Academy includes different learning packages to meet the unique needs of various stakeholders, such as first responders and O&M technicians (See Figure 2).
Figure 2: Initial training package offering on Fluence Academy
Course Overview

Prerequisite

First Responder

Energy Storage Safety
Cube Safety Features
Site First Responder Training

None

Project Orientation

Overview (Gridstack, Sunstack, Edgestack)
Cube Components
Electrical Layouts
Safety Systems
Core and Array Components
Operations Overview

None

Operator

Provides remote operators or performance personnel training
Fluence OS Operations
Data Acquisition System (DAS) Training

Project Orientation

Fluence Certified Technician, Maintenance Associate

Includes Project Orientation and Operator Training Packages
Certifies individuals to perform certain defined preventative maintenance (PM) and operations activities

Project Orientation

Fluence Certified Technician, Maintenance Professional

Certifies individuals to perform all PM and operations activities, as well as a list of reactive maintenance and hardware replacement work activities

Fluence Certified Technician, Maintenance Associate
Building Customer Expertise with Asynchronous Training Options
As discussed earlier, there are benefits to both in-person and online trainings that can differ from person-to-person and even course-to-course. Combining both options enables employees to swiftly progress through the learning curve. Trainees can have informed, in-person discussions leveraging the foundational knowledge built through online training paths.
Here at Fluence, we are focused on driving change to accelerate the modernization of our energy networks. To support the growth in storage projects, the industry must come together to adopt more advanced, standardized training programs and tools. With Fluence Academy, we are investing in the long-term success of our customers and their storage assets, with the goal of raising overall baseline knowledge and operator know-how.
Why Fluence?
The Fluence team brings over 14 years of experience designing, deploying, and operating complete energy storage solutions. Operating from a foundation of integrity, quality, personal ownership, and responsibility, we are focused on our customers' success and accelerating the advancement of the energy sector. With a presence in 30 markets globally and offices in 7 countries, Fluence has the geographic breadth and subject matter expertise to develop and deliver effective training modules.


Forward-Looking Statements
The information in this post includes "forward-looking statements" within the meaning of Section 27A of the Securities Act and Section 21E of the Securities Exchange Act of 1934, as amended. All statements, other than statements of present or historical fact included in this post are forward-looking statements, including, without limitation, the anticipated benefit and additional knowledge that Fluence Academy may provide to Fluence customers and its role in the clean energy transition. The forward-looking statements contained in this post are based on our current expectations and beliefs concerning future developments, as well as a number of assumptions concerning future events, and their potential effects on our business. These forward-looking statements are not guarantees of performance, and there can be no assurance that future developments affecting our business will be those that we have anticipated. These forward-looking statements involve significant risks and uncertainties that could cause the actual results to differ materially from the expected results. Most of these factors are outside Fluence's control and are difficult to predict. Factors that may cause such differences in expected results include but are not limited to the following: actual use of Fluence Academy by customers in practice and ability to assist customers in the maintenance and operation of their energy storage systems in real time, and Fluence Academy's ability to run and operate without any defects or errors. Fluence cautions that the foregoing list of factors is not exclusive. Additional information about factors that could materially affect Fluence is set forth under the "Risk Factors" section in its Annual Report on Form 10-K and Quarterly Reports on Form 10-Q filed with the Securities and Exchange Commission, and available on the SEC's website at www.sec.gov.
Except as otherwise required by applicable law, Fluence disclaims any duty to update any forward-looking statements contained in this post, all of which are expressly qualified by the statements in this section, to reflect events or circumstances after the date of this post. Should underlying assumptions prove incorrect, actual results and projections could differentiate materially from those expressed in any forward-looking statements..