Fluence's first Sustainability Report is hot off the press, published less than two years after our Initial Public Offering (IPO) and less than a year after the launch of our Environment, Social, and Governance (ESG) Department. In this Q&A, Fluence Director of ESG and Sustainability Mike Herod highlights the priorities of our quickly growing ESG program. He also discusses the accomplishments that are outlined within our fiscal year 2022 Sustainability Report and previews our future goals.
Can you tell us a bit about Fluence's ESG and Sustainability Program?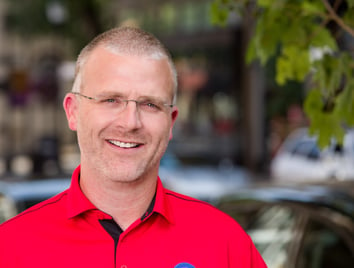 Fluence Director of ESG and Sustainability Mike Herod
I think the best way to introduce our ESG and Sustainability Program is to rewind a year. At the outset of 2022, we were just beginning the work of forming Fluence's ESG Department. As our team was brought on board, we got straight to work further embedding ESG as a priority across the company. We also challenged ourselves with ambitious goals around gathering and understanding our data and began developing Fluence's first sustainability report. That ambition and determination has certainly paid off as in less than two years after our IPO, we've released our first sustainability report.
Publishing a report at this stage in Fluence's growth is a testament to our commitment of holding ourselves accountable through transparency. That transparency begins with a well-structured ESG and Sustainability Program. From an operational standpoint, our ESG Department is built on three pillars: reporting and stakeholder engagement, environmental stewardship and compliance, and responsible sourcing and social compliance. The governance section of our sustainability report offers a comprehensive overview of how our program is structured and of the teams – including our ESG Steering Committee and ESG Council – that are essential in driving our success. It's important to note that our governance flows from our CEO and CFO throughout the company. We could not have accomplished so much in such a short amount of time without their support and the passion of our employees.
How are you ensuring the validity of Fluence's ESG reporting methodology?
Our Sustainability Report aligns with the Sustainability Accounting Standards Board (SASB): Fuel Cells & Industrial Batteries standard and the Global Reporting Initiative (GRI). Additionally, we incorporated the applicable United Nations Sustainable Development Goals (UN SDGs) that best align with our mission.
We also engaged several external experts to ensure that the quality of our data systems and engagement programs meet or exceed industry standards. For our Diversity, Equality, and Inclusion Program, we used 1065 North Consulting. Nasdaq conducted our Material Assessment and Investor Perception Study. Our GHG collection and reporting systems were validated by Sustaining Supply Chains.
So, what does all of that mean? In short, it means that Fluence's ESG Department doesn't operate in a vacuum. We're aligned with globally recognized standards. Our key performance indicators are third-party validated. We also work alongside suppliers, customers, governments, and others to make progress and fulfill our mission of transforming the way we power our world.
Can you provide an overview of Fluence's digital sustainability vision?
As mentioned earlier, foundational to our sustainability vision are accountability and transparency. We are building a data-driven program, underpinned by a digital sustainability approach. Leveraging digital solutions at crucial stages and links in our supply chain and product lifecycles can bring increased accountability through transparency and help accelerate our progress toward achieving our ESG goals. Within the report, we highlight key parts of our multi-year plan to digitize our approach to sustainability.
Sustainability Vision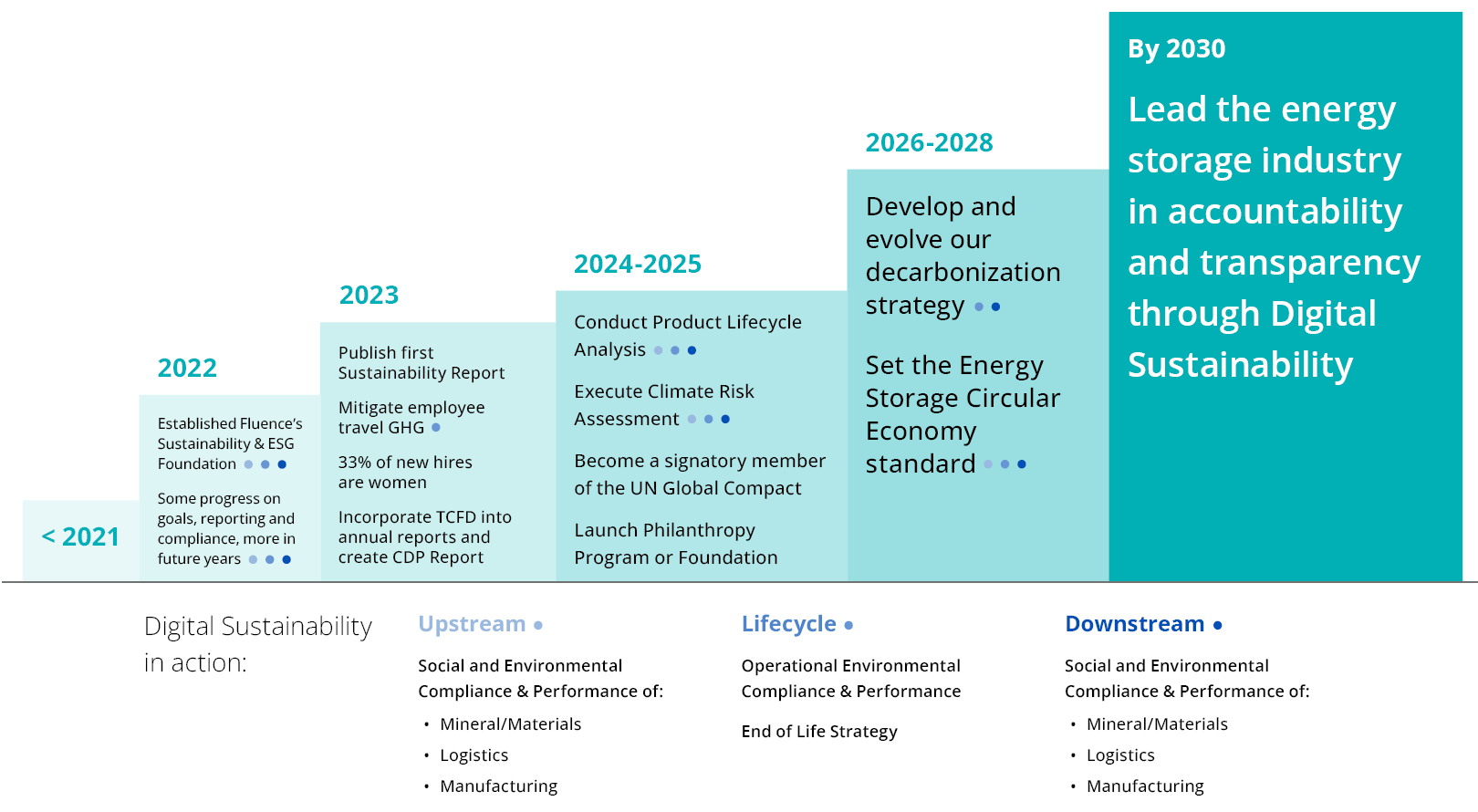 A key part of the Sustainability Report focuses on Fluence's responsible sourcing strategy. What is included within that strategy?
Fluence's responsible sourcing strategy is certainly a key focus of the report. Among other critical components, it outlines Fluence's supply chain standards that minimize the risk of child or forced labor. We value human life and rights and work diligently with our international suppliers to combat forced and child labor practices. Earlier this year, we published our Forced Labor Commitment Letter that clearly states our stance and the mechanisms we use to ensure our products do not contribute to child or forced labor.
Our responsible sourcing strategy also lays out our annual conflict mineral auditing process. That process is designed to ensure high risk minerals are not used in our energy storage products.
A significant callout within the report is Fluence's Circular Economy Framework. Can you describe that framework?
Our Circular Economy Framework is being developed to guide the responsible lifecycle of Fluence's energy storage solutions, including sustainable end-of-life management processes.
Our conceptual vision of the circular economy for battery-based energy storage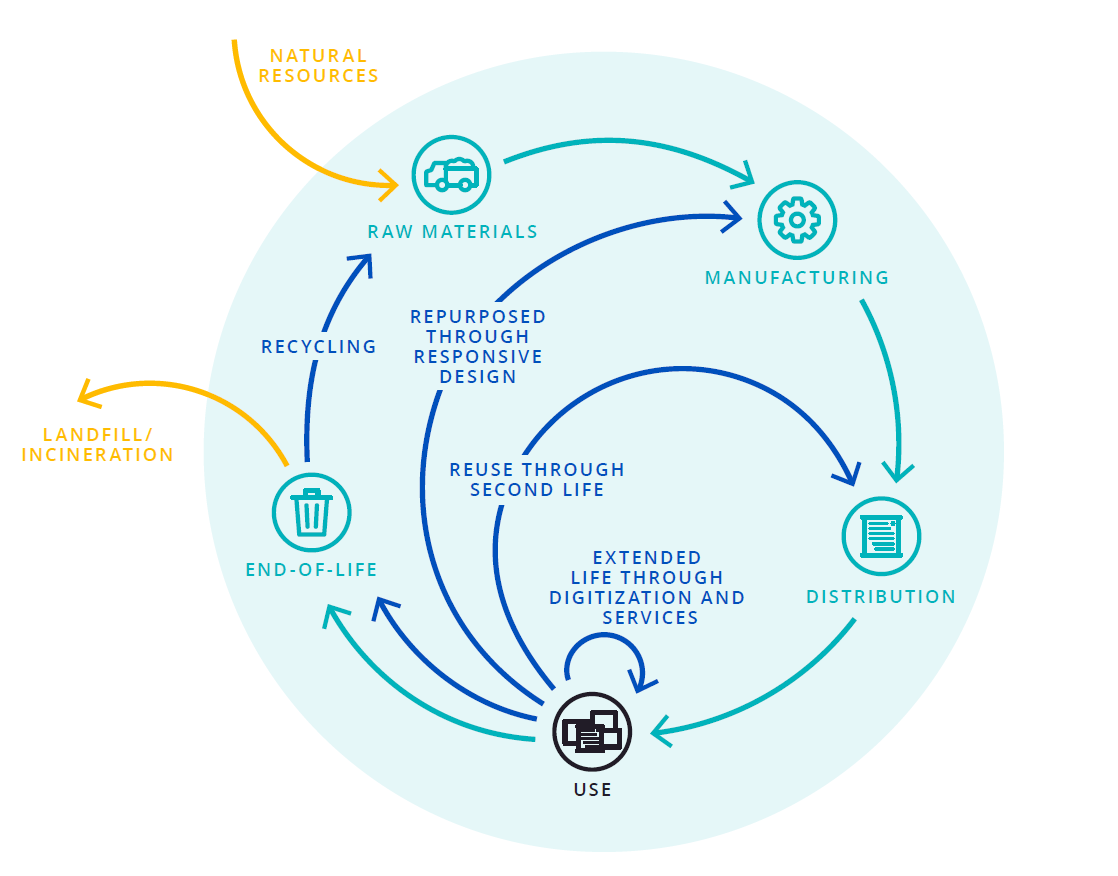 We have already initiated our Material Recycling Framework by establishing internal policies that mandate battery recycling through partnerships with lithium battery recycling companies in North America and Europe. These companies will ensure that, when a battery module needs replacement, its materials can be diverted from the landfill, contributing to greater environmental stewardship. Over the next few years, we will expand our partnerships globally and develop a site decommissioning procedure to ensure responsible behavior and accountability when returning sites to a native state.
Our Responsive Design Framework will incorporate circular economy design principles into our products, enabling greater responsibility and lasting value. This will involve incorporating recycled content into our products, extending their service life, and making them easier to deconstruct for greater recyclability.
We also recognize that our solutions have the potential for a second life. The Second Life Framework will combine aspects of the Material Recycling and Responsive Design Frameworks to create modularity and compatibility, providing our products with a second life before final deconstruction and recycling. Overall, we are committed to being good stewards of our resources, reducing environmental stress in the energy market, and providing impactful solutions for a sustainable future.
These Frameworks are not possible without digitization. Leveraging actionable data in real time provides immense value and benefits. Expanding our digital footprint through software and data analysis will enable us to streamline compliance and become more predictive and proactive.
Can you give an overview of Fluence's diversity goals?
As Fluence SVP & Chief Human Resources Officer Larissa Cerqueira so eloquently puts it, we must attract, develop, and retain the best talent that brings diversity in all its forms. In doing so, we drive diversity of thought to achieve our strategic objectives. We have successfully partnered with external experts to guide us in setting our diversity strategy and goals. In aligning with the UN Gender Equity SDG 5.5, we set a goal in 2021 to have a 33 percent female workforce by 2023 and we're on our way to achieve it.
I'd also like to highlight a few other notable diversity achievements that are included in the report. Looking at Fluence's Board of Directors, 5 of our 12 Directors identify as female and 4 Directors identify as racially diverse. Additional insights regarding our Diversity, Equity, and Inclusion Program are outlined within the report.
What is a greenhouse gas data gap analysis and what did Fluence's analysis reveal?
In short, a greenhouse gas (GHG) data gap analysis assesses our current GHG impact, helps us define our future targets, and pinpoints roadblocks to achieving those targets. In 2022, we conducted a GHG data gap analysis to help us build our emissions baseline. The analysis included Scope, I, II, and portions of our Scope III emissions. Scope I and II emissions are those that are owned or controlled by a company. Scope III emissions are a consequence of a company's activities but come from sources not owned or controlled by that company. One of the main ways that the GHG impact of companies is measured and assessed is through the lens of these three scopes.
The scope of our GHG data gap analysis included our 12 leased facilities (labs and office spaces) and global travel. We aligned our reporting framework to the GHG Protocol Corporate Standard to ensure transparency by separating scopes accordingly. The analysis confirmed minimal Scope I and II emissions and revealed that our Scope III emissions present the greatest opportunity for emissions reduction. This opportunity will allow us to enact enhanced transformation throughout our value chain. I encourage you to read the full details that are outlined within our Sustainability Report.
Our Facilities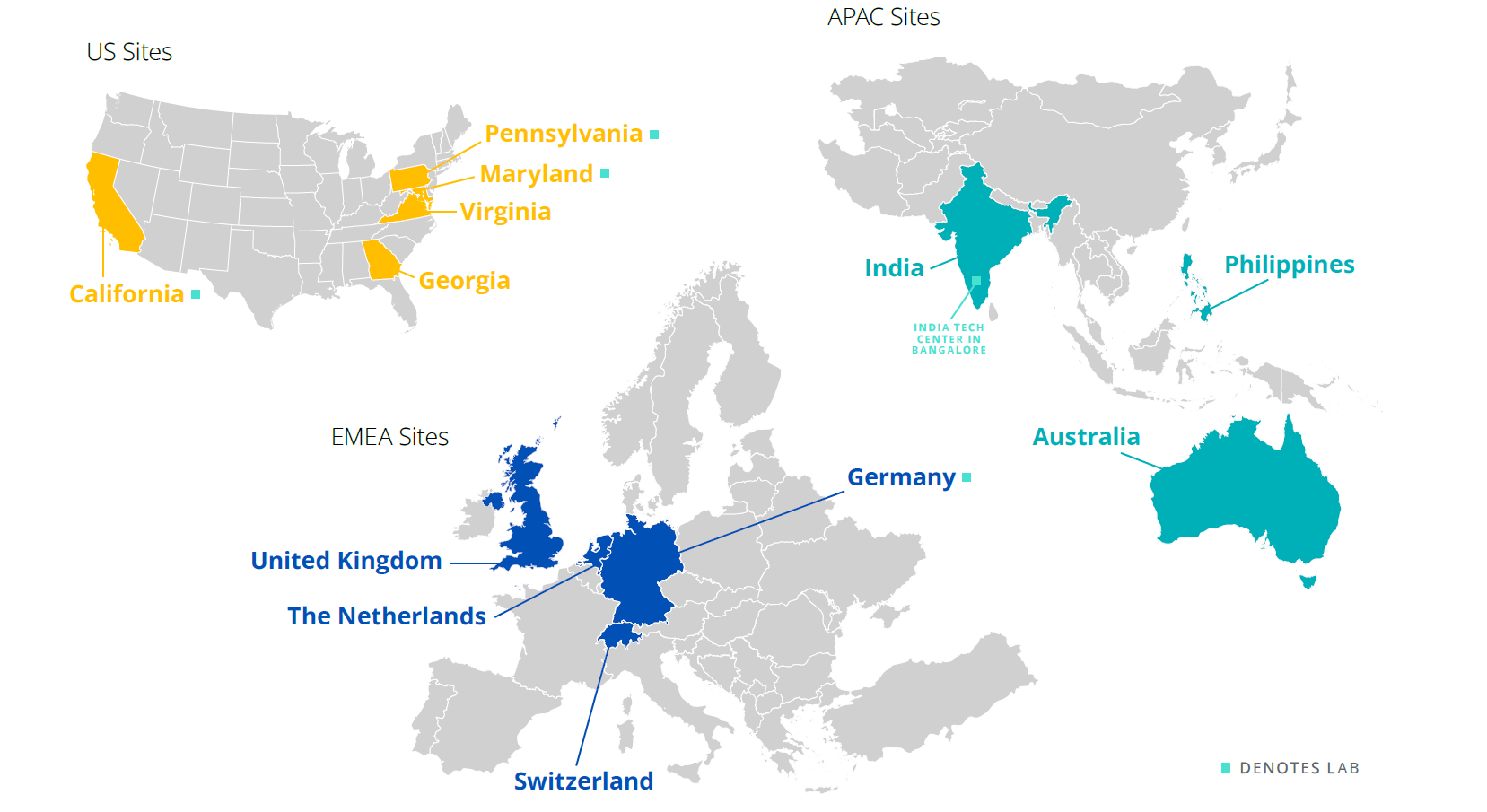 Any closing comments?
We have challenged ourselves to build a strong foundation of sustainability this year and are passionate about working alongside our customers, supply chain partners, and other stakeholders in creating positive societal impacts. The industry-leading progress that we've made so far is the direct result of our visionary leaders and employees, as well as the trust of our customers and shareholders, and partnership of our suppliers. I'm especially excited how our future will be improved through our circular economy principles and our future state where our sustainability data is pushed, validated, and analyzed through digitization so we can continue to innovate.
Forward-Looking Statements
Any statements that are not historical facts and that express, or involve discussions as to, Fluence's expectations, beliefs, plans, objectives, assumptions, future events or the performance or safety of new technology and products (often, but not always, indicated through the use of words or phrases such as "will likely result," "are expected to," "will continue," "is anticipated," "estimated," "intends," "plans," "believes" and "projects") may be forward-looking and may involve estimates and uncertainties which could cause Fluence's actual results to differ materially from those expressed in the forward-looking statements. Such forward-looking statements are subject to a number of assumptions, risks, and uncertainties, including those described under the heading "Risk Factors" in Fluence's most recent Annual Report on Form 10-K and in other filings Fluence makes with the SEC. New factors emerge from time to time, and it is not possible for us to predict all such factors. Further, we cannot assess the impact of each such factor on our results of operations or the extent to which any factor, or combination of factors, may cause actual results to differ materially from those contained in any forward-looking statements. Any forward-looking statements speak only as of the date of the post, blog, or other disclosure, and are based on information available to Fluence as of the date of such publication and Fluence does not undertake to update or revise any of the forward-looking statements, whether as a result of new information, future events or otherwise