We are proud to announce that Fluence has acquired Advanced Microgrid Solutions' (AMS) artificial intelligence-driven software and digital intelligence platform, which enables optimized market bidding for flexible utility-scale storage and generation assets to ensure they are optimally traded in electricity markets. We are also fortunate to count AMS' team of industry-leading data scientists and engineers among Fluence's newest employees. This agreement unites two companies that have already been working together as complementary technology providers and enhances Fluence's existing technology platform with a powerful, market-facing AI capability. We expect the integration to have an immediate impact for customers in California and Australia seeking to achieve the maximum value out of flexible generation and energy storage assets.
We published a press release about the news this morning, but because this is a significant milestone for a company formed less than three years ago, I wanted to provide a bit more color around our history with AMS, and how this transaction supports our long-term strategy and benefits owners of energy storage and renewable and flexible generation assets.
A Productive Partnership and Force Multiplier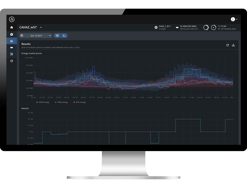 Fluence and AMS have been working together since early 2019 in Australia's National Electricity Market (NEM) and the California ISO power market (CAISO). Fluence uses integrated hardware, software and digital intelligence to deliver the best-performing energy storage systems. AMS uses AI, advanced forecasting, asset and portfolio optimization, and market bidding to deliver maximum value from energy storage and generation assets and optimize their use.
Fluence has spent the past decade developing deep expertise in optimizing the marginal cost of energy storage assets. Our dispatch optimizer looks at the cost impact to an asset that would accrue from running another cycle and evaluates whether the potential additional revenue is greater than the operating costs. To provide a precise, holistic cost/benefit analysis of an asset, however, we need to be able to accurately predict what the market value of cycling an asset would be. That's where AMS' AI-enabled forecasting comes in – providing additional automated dispatch and predictive optimization capabilities that determine when to bid the asset to optimize revenue and avoid market risks such as negative pricing events.
Fluence will benefit from AMS' visibility into the market-facing revenue side, and AMS will benefit from Fluence's visibility into the marginal cost side. It was clear each technology complemented unique insights the other provided, delivering a complete picture that improves asset flexibility and maximizes the ROI of energy storage and renewable energy assets, and that the best way to combine our strengths was for Fluence to acquire AMS' software and the stellar team behind it.
Long-Term Digital Strategy & Open Ecosystem
This acquisition signals a new phase of digital growth for Fluence. Energy storage is on the uptake in a big way. But the next step-change change won't come from the ability to store and deliver power alone – energy storage systems require digital intelligence to optimize decision-making and market-specific customization to provide maximum value to asset owners as well as local networks. We brought on a new chief product officer, Rebecca Boll, earlier this summer to help focus our efforts and support our long-term digital expansion; the acquisition of AMS and the addition of its team is the latest demonstration of our commitment to providing customers with industry-leading digital products and applications.
Like companies in many other technology industries, Fluence recognizes the need to take an ecosystem-friendly approach that gives customers the flexibility to integrate third-party software and tools with Fluence storage and controls systems. A key part of our strategy is maintaining an open digital ecosystem that makes our own and third-party applications available to both Fluence customers and owners of energy storage systems that use other technologies. In pursuit of our mission to transform the way we power our world, one of our goals is to foster a more open, horizontally integrated ecosystem that makes our – and others' – innovative technologies as broadly available as possible, as quickly as possible. We will prioritize continuity of AMS' existing renewable generation and storage customer base. Fluence will invest in development and support of AMS' existing platforms as standalone offerings, while also working to capture synergies with our own technology.
AMS' technology will be available to optimize not only energy storage assets, but also standalone renewable as well as hybrid assets. We believe energy storage will be the linchpin of a smarter, more responsive, more resilient, and more sustainable grid. We therefore have a strategic interest in enhancing product development for both energy storage as well as renewables. We have a long history of integrating energy storage with renewables, including wind and AC-coupled solar; this past year, we launched our Sunstack™ DC-coupled energy storage system, specifically optimized for PV solar deployments, and began work on our first hydro + storage project in Chile.
Driving Value for Customers – and the Grid
AMS' software can significantly improve revenue of energy storage assets in wholesale markets. It can reduce the payback period from more than six years (using manual trading) to as little as three years (using AMS' software), which can increase IRRs for energy storage from ~10% (using manual trading) to as much as 25-30% (using the software) – incredible returns for a large-scale electric power infrastructure asset.
Renewable energy and energy storage are key elements of a more modern, resilient, and sustainable grid, but their benefit is limited without digital intelligence to optimize their value and use. Advanced technologies, including machine learning, AI and digital intelligence, will unlock the full potential of these assets, driving value for asset owners, making electricity more affordable for consumers, improving reliability and flexibility for grid operators, and lowering carbon emissions.
The acquisition adds a new application we can deliver with or independent of our existing technology. It expands and enhances Fluence's existing market intelligence capabilities and makes AMS' unique capabilities available to more owners and developers of renewable and energy storage assets, marking an important step in building a smarter, cleaner and more resilient electric system.