- PRESS RELEASE-
Groundbreaking energy storage portfolio, including the region's first system, to stabilize electricity grids across the country.
MANILA, PHILIPPINES – 09 June, 2021 – Fluence, a leading provider of energy storage technology, services and software, announced today that it has completed commissioning of two 20 MW / 20 MWh battery-based energy storage systems in the Philippines for San Miguel Corporation Global Power Holdings Corp. (SMCGPH). The initial projects represent the first wave of an energy storage portfolio totaling 470 MW / 470 MWh across 13 project sites that SMCGPH has contracted Fluence to supply and maintain. SMCGPH's battery-based energy storage portfolio is the largest such procurement to date in Southeast Asia and will provide critical grid stability services for power grids across the Philippines, including managing frequency and voltage and supplying reactive power.
SMCGPH's broad portfolio procurement builds on its work with the Fluence team to successfully deploy the region's first battery energy storage system, a 10 MW / 10 MWh system sited at the Masinloc Power Plant in Zambales. The project served as both a proof of concept and a template for the development of subsequent SMCGPH energy storage assets across the Philippine grid.
To simplify project development and maximize the speed of delivery, SMCGPH and Fluence collaborated to develop a standard-sized 20 MW "building block" using Fluence's energy storage technology. Working with an established, bankable energy storage technology provider enabled SMCGPH to quickly roll out state-of-the-art systems built on lessons learned from Fluence's many years of global deployment experience.
With project sites ranging in size from 20 to 60 MW, the full portfolio is targeted to be delivered and commissioned in 2022, making it not only one of the largest deployments of grid-scale battery-based energy storage on a single national grid, but one of the fastest at this scale.
"Fluence is proud to help SMC Global Power make its ambitious vision of a cleaner, more resilient grid in the Philippines a reality," said Jan Teichmann, Fluence's general manager for the Asia Pacific region. "Our team, which has pioneered new markets and applications for energy storage to make it a trusted component of modern electric grids around the world, has worked closely with SMCGPH to expand the range of ancillary services batteries are providing, paving the way for a truly transformed grid in the Philippines in just a few years' time."
The two 20 MW systems already commissioned and tested by NGCP are in Kabankalan in the province of Negros Occidental, and in Malita in the province of Davao Occidental, respectively. Additional 20 MW systems will begin commissioning shortly including an expansion of the already-deployed Masinloc project — tripling the Masinloc project site's energy storage capacity — and a 20 MW system in Maco, in the province of Davao de Oro.
Fluence will continue deploying the remaining energy storage systems for SMCGPH across the Philippines through July of 2022. With this record-setting deployment, SMCGPH is strategically siting energy storage projects across the Philippines' power network to make it stronger and more resilient, preparing the national grid to accommodate higher levels of renewable energy adoption and taking the Philippines into the leadership position in clean energy deployments in Southeast Asia.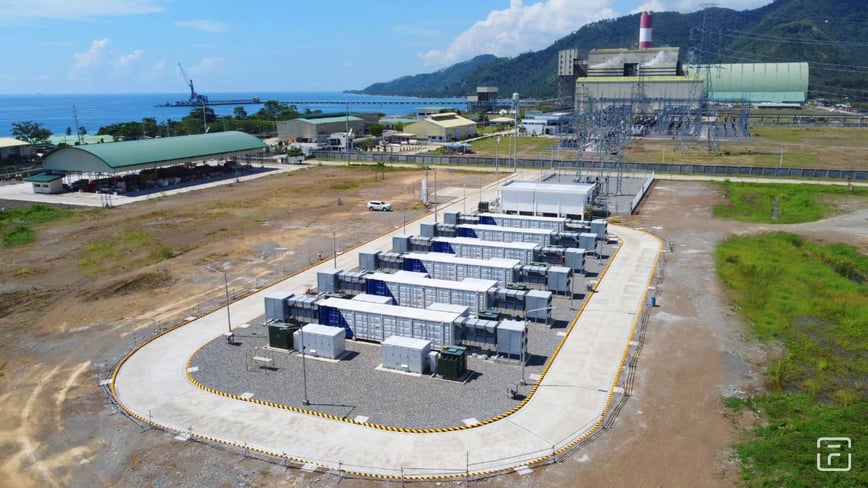 The 20 MW Malita Energy Storage Facility in the province of Davao Occidental
About Fluence
Fluence, a Siemens and AES company, is helping drive the global energy transition with grid-scale products, services and digital applications that help customers maximize the value and performance of single projects or entire portfolios of assets. Fluence delivers energy storage and bidding optimization software, products and engineering, delivery, and operational services to customers globally. The company has more than 6 GW of storage and optimized bidding assets in operation or contracted in 29 markets.
To learn more about Fluence, please visit: fluenceenergy.com
Media Contact
Steven Goldman
Regional Marketing Manager, Asia Pacific, Fluence
+61 (4) 3522 2329
steven.goldman@fluenceenergy.com