Since we started our energy storage journey in 2006, we've grown with our customers, pioneering ways that storage can help utilities better control, scale and ensure the reliability and availability of electricity. That experience has helped us stay agile as a solutions provider – and we're proud to say it's led to AES Energy Storage being ranked as the leading energy storage systems integrator by Navigant Research for the 2nd year in a row.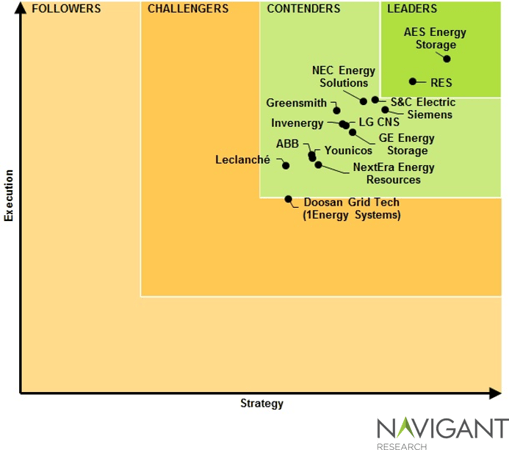 How have we held that title? For one reason, we see building a strong ecosystem of partnerships as key to driving this industry forward.
Navigant's report highlighted strength of partnerships as one of the areas AES Energy Storage is leading the industry. That's no accident. A key lesson we've learned is that to scale up an offering like Advancion 4, our award-winning energy storage platform, a single company can't be everywhere and can't do it alone. Nor should it.
To expand our offering and speed up how quickly we can deploy projects, we've cultivated novel partnerships to get us there, positioning us to respond quickly to our customers' needs and bring reliable, flexible and clean energy storage to new markets. Putting those partnerships in place has proven to be a powerful driver of improvement and innovation for Advancion.
Building a stronger Advancion supply chain…
Advancion 4 uses a modular architecture that can utilize a variety of pre-certified advanced battery and power conversion manufacturers. Over the last few years, as we've developed projects for both AES facilities and other customers, we realized that many suppliers didn't have the capacity available to service the size of projects we or our customers were looking to build. Vendors could sell us batteries for the initial installation, but stop manufacturing a design before a site needed replacements. A robust, steady supply chain didn't exist.
So we set to work building it, an agreement at a time.
To consistently deliver large-scale energy storage installations and manage costs for our customers, we needed three key elements: access to a large volume of components, competitive pricing for those components, and standardization to allow us to use with the most cost-effective options that met our high standards for quality. To meet those needs, we put key elements in place:
We developed the Advancion certification program to ensure that we had a pool of components (for example, batteries and inverters) to offer that can perform at a high level of performance fit into the Advancion nodal architecture. AES evaluates these potential suppliers for use in Advancion and then works with them to standardize the components and communication protocol to ensure interoperability across projects and suppliers.
To ensure a steady battery supply, we signed a global gigawatt-hour agreement with LG Chem, ensuring Advancion 4 customers have access to high quality, low-cost battery supply. This is the largest agreement of its kind to date and is helping the energy storage industry move to gigawatt scale.
We've certified and signed supplier agreements with Samsung SDI and have certified additional vendors, building a supplier base that represents more than two-thirds of the world's lithium-ion battery market share.
Lastly, we have a strong global relationship with Parker-Hannifin as a certified inverter supply partner for Advancion dating back many years.
Through our certification program, we regularly certify new or improved technologies and assess additional partnership opportunities for Advancion. In that process, we avoid the large-scale investments needed for new manufacturing that some of our competitors face.
…To offer turnkey solutions for utilities' changing needs
Building out that supply chain has not only ensured a quality supply of components, but is enabling us to deploy projects faster. The speed of deployment is playing a growing role in our projects, in different cases due to customer needs, regulatory demands or market pressures. We're able to deliver our Advancion platform to customers on an accelerated timeline for a few key reasons:
The Advancion platform is designed for rapid deployment. Our arrays are engineered to accommodate interchangeable supplier components, reducing per project system integration and ensuring that projects can be continuously updated over their 20+ year lives.
We and our partners offer a variety of ownership models to meet our clients' procurement needs, including turnkey storage solutions, contracts and power purchase agreements, and hybrid options like the build-own-operate-transfer (BOOT) model.
Energy storage systems like Advancion offer utilities a smart, dependable and cost-competitive alternative to peaking power plants, improving existing electric infrastructure and enabling a greater penetration of clean energy resources.
When California issued requirements in 2013 and 2016 for the state's largest investor-owned utilities to add energy storage capabilities to their grids, Southern California Edison and San Diego Gas & Electric chose us to build three energy storage projects totaling 137.5 megawatts, some of the largest in the country.
Both utilities chose us as a partner because of our long experience in and commitment to the energy storage sector, our track record in proving the value and possibilities for storage and because we had the right supplier relationships in place to deliver the project on the timeline they needed.
The installations we are building for both utilities will help to improve regional reliability, replace peaking capacity with flexible battery storage and integrate greater amounts of renewable energy.
Our leading position in Navigant's rankings shows we've built and will continue to grow a supplier ecosystem that supports long and healthy relationships with our customers. By building a robust supply chain based on a foundation of strong partnerships, AES can offer solutions that work for you, signed, sealed and delivered to your site, offering the flexibility you need to build the clean, unbreakable grid.