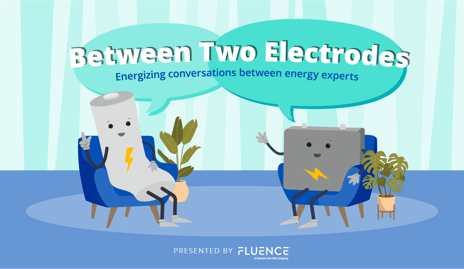 Between Two Electrodes is an educational series for energy storage professionals produced by Fluence with industry subject matter experts. This educational content helps our audience make better, more informed decisions on complex energy topics.

In this installment, we cover energy security and policy in Europe with guests Gerard Reid, co-founder of Alexa Capital and co-host of the Redefining Energy podcast, and Lars Stephan, senior manager of policy and market development at Fluence.
Energy security is a concept that many people in Europe, and most countries with an interconnected grid, take for granted. It is expected that electricity and energy will be available at the time of need. Power comes from the plug in the wall and the times of occasional blackouts are a faint memory of the past. With the accelerating digitalization of almost all aspects of modern life, energy security and affordability are vital to the stability of our economies and function of our society.
Over the last 12-15 months the European energy system has been exposed to an unprecedented crisis, which started before the Ukraine conflict, and shows Europe's dependence on fossil imports of coal, oil, and gas. The impact has been huge energy price increases for European consumers and European industry, with far-reaching implications for energy affordability and energy poverty as well as the international competitiveness for manufacturing and industry in Europe.
Policy makers on the European and national levels have reacted in multifuel ways trying to reign in energy markets and protect consumers, increasing public spending, while looking at inflationary pressures not seen for decades around the world. At the same time, doubling down on the energy transition has become the rallying cry to achieve energy security and affordability alongside achieving decarbonization targets. While this path to acceleration of renewables comes with new challenges, the cost of inaction appears multifold.
Understanding Europe's Current Energy Crisis in 2023
The current energy crisis in Europe started far before the conflict in Ukraine. To address the issues at hand, it's important to understand all contributing factors that have led to this point. In this video, hear from Gerard Reid, Co-Founder of Alexa Capital and Co-host of the Redefining Energy podcast, on how price volatility, dependence on gas, climate change, and lack of foresight have contributed to Europe's energy crisis and the potential consequences of not addressing these issues.
What does energy security mean for Europe?
The energy system operates in a so-called 'Energy Trilemma', which depicts the challenge of balancing energy security, energy equity, and environmental sustainability. Energy security refers to the ability of a country or region to reliably supply its consumers with continuous and uninterrupted energy. Energy equity refers to the availability, access, and affordability of energy to all consumers regardless of ability, race, or socioeconomic status. Historically, marginalized communities have been more negatively affected by pollution, lack of access, and energy price increases. Environmental sustainability of the energy system refers to the responsible sourcing of energy to meet demand needs of current and future generations while mitigating potential environmental harm, such as air pollution, and climate change impacts.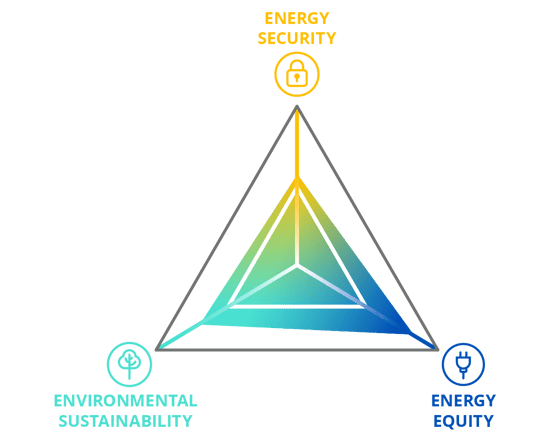 The Energy Trilemma triangle represents the challenge of balancing energy security, energy equity, and environmental sustainability. Image source: World Energy Trilemma Index | World Energy Council
Europe's energy policy has, in the past, heavily focused on decarbonization and affordability, whereas energy security has been generally taken for granted, until now. In addition to the European gas shortage which began in late 2021, the current war in Ukraine has sent shockwaves through energy markets in Europe leading to the unprecedented reduction in energy exports from Russia, multiple rounds of sanctions, and the destruction of major gas pipelines that connect Russia to Europe. Even during the Cold War (1947-1991) this level of disruption to the energy market was not seen and Russia remained a secure partner for satisfying the ever-increasing energy requirements of Europe. In the past year and a half, gas prices have reached historic highs as Europe struggled to fill its gas storage for the winter season, when large parts of Europe depend on gas for heating. With gas generators having a price setting nature in European power markets, electricity prices spiraled. Energy security suddenly got a price tag and European consumers didn't have a feasible alternative to paying it.
In the short-term, ensuring security of supply meant sacrificing energy affordability and decarbonization targets, with consumer prices increasing and coal plants being reactivated to reduce the usage of gas in the electricity system. With the French low-carbon nuclear fleet struggling over large parts of 2022, the European electricity mix became reliant on coal and lignite.

The Importance of Energy Storage in Solving the Energy Crisis
At the same time, the energy crisis opened a new window of opportunity. In the midst of energy price volatility, renewable energy resources were no longer perceived as expensive, and politicians who previously long argued for a reduction in subsidies to support renewable energy sources started praising them for their low cost. Accelerating the build out of renewables became the new agenda in Europe, with the REPowerEU package proposing the doubling of the annual renewable build out between 2022-2030.
The rationale was clear. Renewable energy is the cheapest energy source, with Europe being able to profit from great solar and wind resources across the continent. At the same time, every kWh produced by sun and wind will make Europe more independent from fossil fuel imports which strengthens energy security, affordability, and decarbonization in the medium to long term. Enabling such accelerated growth of renewables in Europe's energy mix does come with new challenges. Challenges that can be solved with the deployment of new technologies, including energy storage.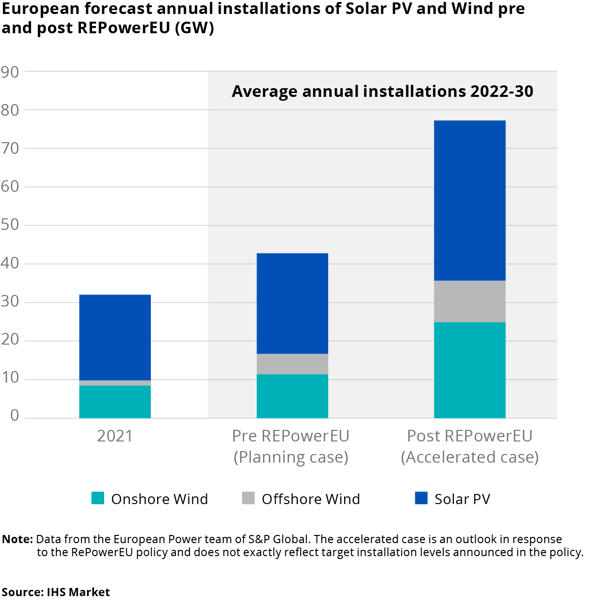 What is the state of energy storage in Europe today?
Energy storage is a vital part of the European energy system and has been for many decades. According to the International Hydropower Association (IHA), in 2021, Europe had 55 GW of installed pumped hydro storage capacity across the continent providing ancillary services and secure dispatchable capacity to the European power system. While energy prices spiraled over the summer when gas generators drove price spikes in European electricity spot markets, Europe's pumped hydro assets discharged electricity that they had stored when solar generation had peaked a few hours before.
In many markets like the UK, Ireland, or Germany, battery-based energy storage has also been critical to energy security. Vital frequency regulation markets that balance energy demand and generation from fractions of a second to minutes are today dominated by energy storage, which, due to its fast response times, is uniquely positioned to provide this service in European energy markets. At the end of 2022, Europe had 10 GW of energy storage, with Fluence accounting for 1.5 GW contracted in Europe and the UK.
An accelerated build out of energy storage has now also become vital to reaching Europe's policy goals. As renewable energy sources are integrated at an increasing speed, the build out of power grids to transport the new build renewable assets traditionally trails the speed of renewables. The amount of time to build traditional poles and wires, from planning to construction, often spans 10 years or longer. At the same time, increasing integration of solar will result in more solar generation that is required by European consumers. Energy storage is therefore a vital tool to integrate increasing shares of renewables and prevent curtailment because of congested power grids or negative prices in wholesale markets. The increased value of energy storage is now widely recognized by energy storage pundits. As of February 2023, S&P Global Commodity Insights expects more than 110 GW of energy storage to be deployed in Europe (including non-EU countries) from 2023-2030.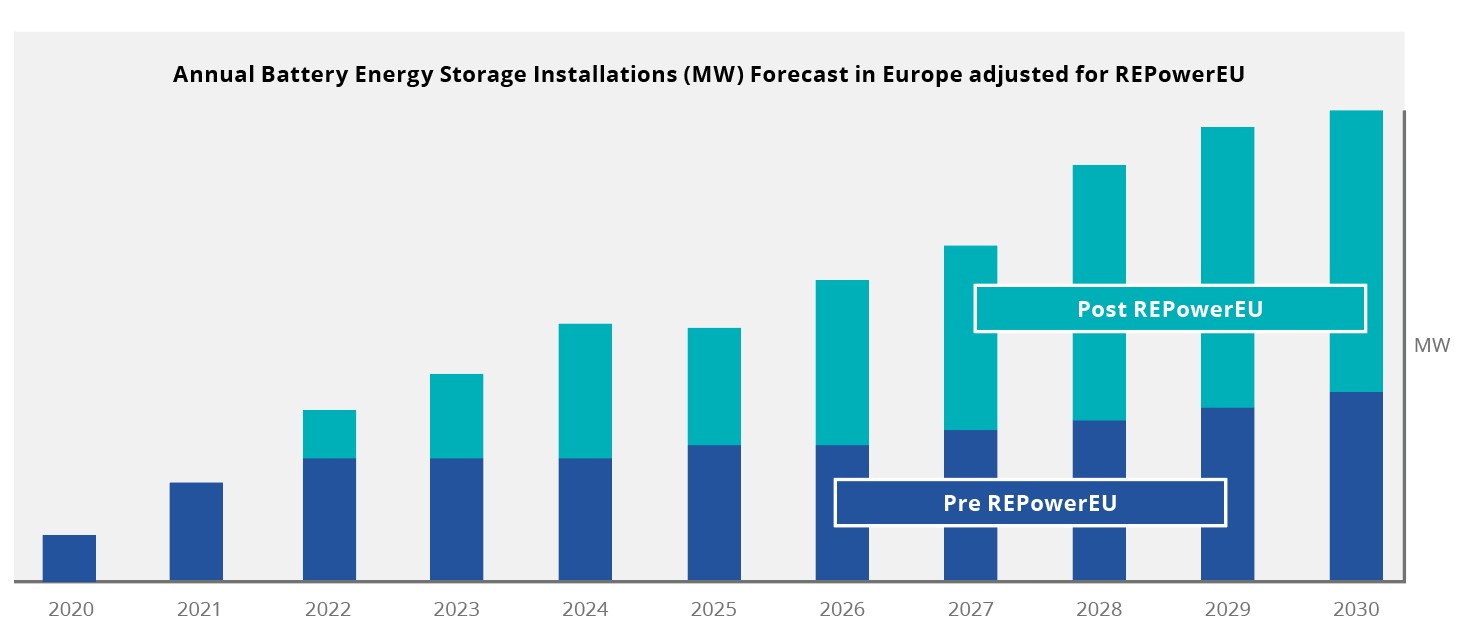 Source: Data adapted from range of sources including IHS Markit/ S&P Global, BNEF, WoodMac., Data includes some markets outside of the EU such as the UK.
Energy storage has taken a lead role within the energy system as a result of the energy crisis. Shifting energy through arbitrage in European power markets has become a highly profitable application for energy storage asset owners due to the volatility in European energy markets increasing between periods with high renewable penetration and low prices; and periods of low renewable generation and high energy prices. While price volatility in 2022 was driven by high gas prices, in the medium to long term, price volatility will be driven by increasing renewable shares in the European power system. The energy markets in 2022 therefore offered a preview into the future power market volatility driven by renewables.
Importantly, shifting electricity from low to high price periods has the wider socio-economic benefit of reducing the overall cost of electricity. Additional energy consumption during low price periods moves clearing prices in wholesale markets only slightly as shown in Graph - A. Moving this electricity as additional supply into high price periods has a strong effect on dampening prices during those periods, as it replaces high-cost peaking plants (Graph - B). As the lower clearing prices apply to all energy traded in a given period, arbitrage operations of flexibility assets result in overall system optimization and lowers the cost of electricity to consumers.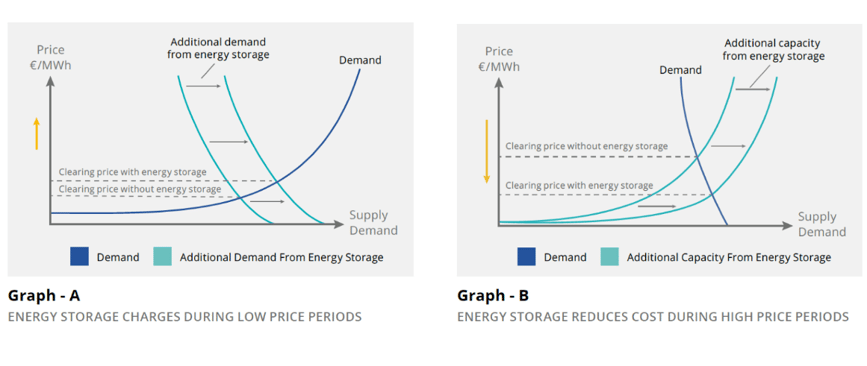 Source: Reforming European Market Design: Integrating Renewables to Decarbonise the Power Sector
The Balance Between Energy Security and Energy Affordability
The European energy crisis is not just about security of supply, but also about affordability. In this video Gerard and Lars discuss how energy storage can support energy affordability, the trade-off between energy security and affordability in the short, medium and long-term, and how energy storage reduces cost in wholesale markets.
What is the role of grid infrastructure in the context of energy security?
Outside of energy markets, energy storage has shown further potential to increase energy security and energy affordability across Europe when being used as Storage-as-a-Transmission-Asset (SATA). In Lithuania, Fluence is building a 200 MW energy storage portfolio that is the cornerstone of a plan to disconnect the Baltic states from the Russian power grid and synchronize it with the continental European grid. Energy storage acting as an instantaneous power reserve to the Baltic grid showcases its unique value to provide energy security to this region of Europe.
In Germany, the innovative concept of grid boosters proceeded with TransnetBW awarding Fluence the contract to build a 250 MW energy storage system, operational in 2025. The system will allow increased utilization of transmission lines in Europe, reducing expensive grid congestion and the resulting curtailment of renewables in Germany.
Both examples show the role energy storage can take when being used as a transmission asset. Other SATA projects that are currently being planned and procured in Europe include 600 MW of battery assets as part of the Stability Pathfinders in the UK, an 80 MW asset in Latvia, and a 140 MW project in Spain. The role of energy storage is thereby two-fold, energy storage can ensure system stability in power grids with high renewables generation and increase energy security by serving as a transmission asset.
What's Needed to Meet Europe's 2030 Decarbonization Goals?
Looking to the future, what needs to happen in the next few years in order to achieve Europe's 2030 decarbonization goals? Hear Gerard's perspective as an investor and Lars' perspective on industry and policy.
Looking for more Between Two Electrodes?
Check out our first installment on the necessity of large-scale fire testing for energy storage.
Forward-Looking Statements
Any statements that are not historical facts and that express, or involve discussions as to, Fluence's expectations, beliefs, plans, objectives, assumptions, future events or the performance or safety of new technology and products (often, but not always, indicated through the use of words or phrases such as "will likely result," "are expected to," "will continue," "is anticipated," "estimated," "intends," "plans," "believes" and "projects") may be forward-looking and may involve estimates and uncertainties which could cause Fluence's actual results to differ materially from those expressed in the forward-looking statements. Such forward-looking statements are subject to a number of assumptions, risks, and uncertainties, including those described under the heading "Risk Factors" in Fluence's most recent Annual Report on Form 10-K and in other filings Fluence makes with the SEC. New factors emerge from time to time, and it is not possible for us to predict all such factors. Further, we cannot assess the impact of each such factor on our results of operations or the extent to which any factor, or combination of factors, may cause actual results to differ materially from those contained in any forward-looking statements. Any forward-looking statements speak only as of the date of the post, blog, or other disclosure, and are based on information available to Fluence as of the date of such publication and Fluence does not undertake to update or revise any of the forward-looking statements, whether as a result of new information, future events or otherwise."