What drives the deployment of battery-based energy storage projects in Sweden and Finland, and how do those projects create value for investors and society alike? The region is striving to become Europe's clean energy hub and is gaining leadership in the green transition of industry. Battery-based energy storage is a vital addition to the Nordics' energy system to integrate an even higher share of renewable energy from abundant wind and hydropower.
In this article, we discuss how favourable conditions – such as a dynamic and appealing frequency regulation market – are laying a solid foundation for energy storage in Sweden and Finland. We also detail how these countries tick many boxes for guaranteeing a sustainable, long-term business case for energy storage and why energy producers and other stakeholders who start investing in energy storage can now earn attractive incomes from balancing markets.
Why are we talking about energy storage in the Nordics?
In Sweden and Finland, the share of renewables in the generation mix is already well beyond 50%. This is primarily due to the broad availability of hydropower and wind generation. However, high renewable penetration creates challenges for grid stability – namely, lack of inertia and higher frequency variations as baseload power plants are being replaced by renewables. When the share of wind in the energy mix increases and hydropower decreases, other technologies are needed to ensure grid stability.
Electricity Generation in Nordic Countries 2021*
*Hydropower, wind power and imported electricity have been made commensurate with fuels according to directly obtained electricity (at the efficiency ratio of 100%) and nuclear power at the efficiency ratio of 33%. Due to rounding, the sum of percentages does not always add up to 100%. Source (Access: 190.05.2023)
The large availability of hydropower had previously limited the market entry conditions for energy storage in the Nordics in times when other European countries were already seeing active participation from storage assets. However, the situation changed in 2020 when the introduction of a common Nordics Fast Frequency market removed entry barriers and specifically triggered participation of fast-responding assets like grid-scale energy storage, delivering fast and attractive returns to energy storage investors and project owners.
To date, more than 200 MW of battery-based energy storage systems are operational in the Nordics. In addition, recent announcements and projects under construction amount to more than 450 MW in Sweden and Finland combined, with the pipeline in Sweden accelerating and already accounting for more than two-thirds of the total. More growth is expected in the years to come in Sweden. Growth is also expected in Finland where large wind farm deployments are driving co-location.
Fluence has deployed or been awarded projects of more than 100 MW in Sweden and Finland. This includes a 20 MW innovative storage-as-a-service solution for Sinebrychoff Brewery, which provides frequency regulation services in Finland, as well as over 80 MW across three projects in central and southern Sweden. These projects make Fluence one of the key actors in Nordic markets.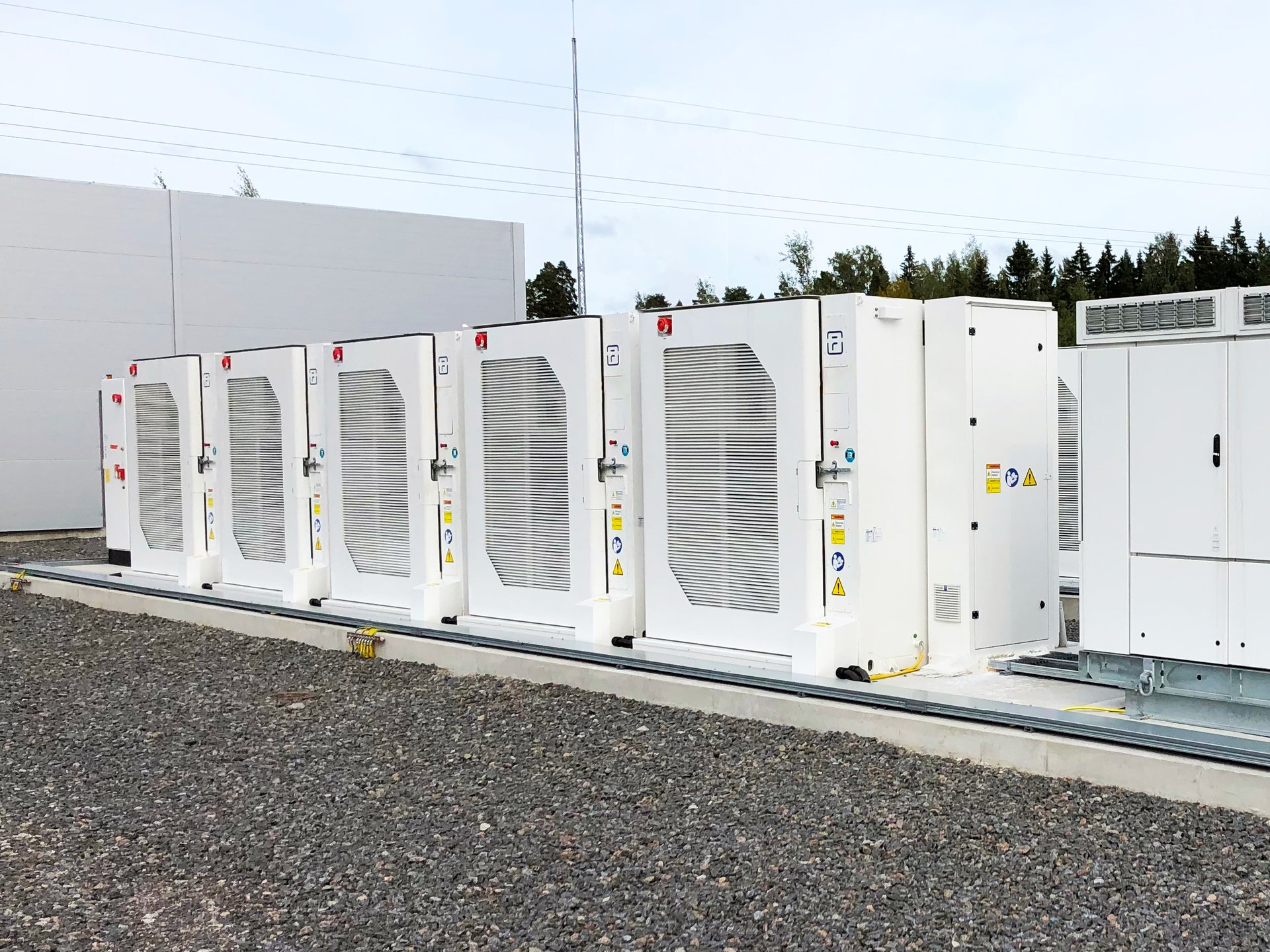 How does the market work?
Historically, Frequency Containment Reserve (FCR) was procured by each country individually. However, this changed in early 2020 when Sweden, Finland, Norway, and Denmark launched a common Fast Frequency Response (FFR) market of 300 MW. Under new rules, transmission system operators (TSOs) of each country procure their share of the 300 MW individually in different procurement processes.
Formerly, ancillary services were mainly provided by hydropower, but as the share of renewables in the energy mix is increasing1, the need for fast-acting services is growing. Energy storage technology has a clear advantage over hydro assets in this scenario due to its much faster response time. All of this makes the business case for energy storage in Sweden and Finland stronger than ever, drives participation of storage in frequency regulation, and promises a fast return on investment.
Ancillary service markets in Sweden and Finland currently offer the following products suitable for energy storage participation:
Finland's share of the Nordics FFR market constitutes around 55 MW, 18% of total capacity, while Sweden's share is about 33%, 100 MW. Fingrid procures FFR from an hourly market in daily auctions, while Svenska Kraftnät runs procurement twice per week.
Although the FFR market is highly suitable for energy storage assets as a very high response speed requirement of 0.7 to 1.3 seconds favors storage over other generation assets, a storage asset in Sweden and Finland would realistically earn its baseline revenues, equal to 70-90 % from frequency reserve services, primarily FCR-N in Finland and FCR-D in Sweden.
The final composition of the revenue stack for energy storage depends on the asset manager's trading strategy. However, energy storage in Sweden and Finland typically provides fast frequency services when prices and volumes are high and frequency containment reserves the rest of the time.
Sweden: Average Hourly Prices for FCR-N, FCR-D up, FCR-down (€/MW/h)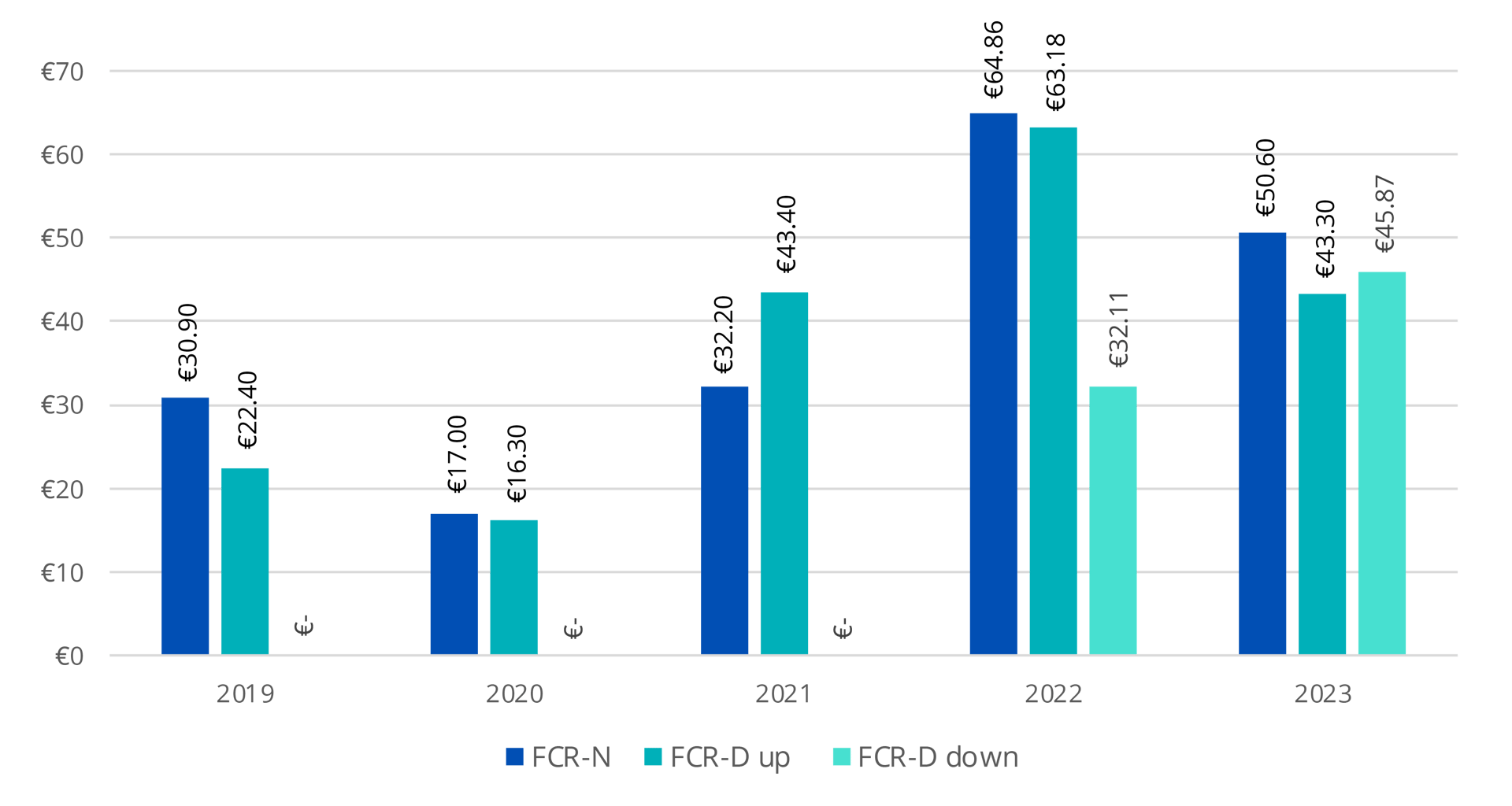 Source: Svenska Kraftnät 2023 (Access: 17.05.2023)
Finland: Price for FCR-N, FCR-D up, FCR-D down (€/MW)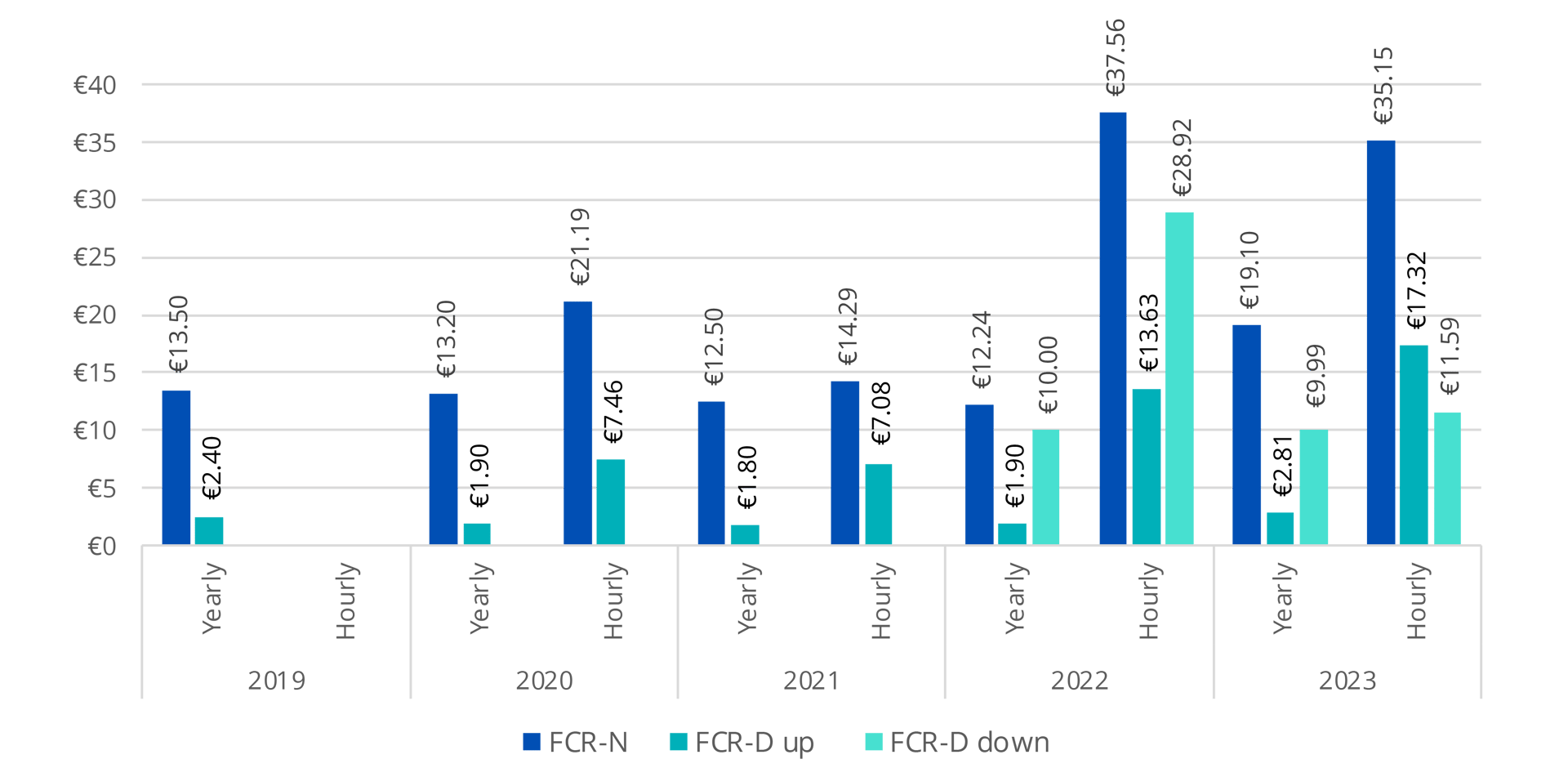 Source: Fingrid 2023 (Access: 17.05.2023)
Where are the markets heading?
If we draw a comparison between Sweden and Finland and other European markets for energy storage, the region could follow a similar pathway to those markets.
Great Britain was the first to allow participation of energy storage in Enhanced Frequency Response (EFR) and later onwards, in Firm Frequency Response (FFR). Energy storage systems quickly moved to dominate these markets, replacing most other technologies due to their ability to provide power quickly and at lower prices. Today, energy storage participates in a suite of dynamic frequency services, balancing market, capacity market, and earns an increasing share from trading energy in wholesale markets. By making these services accessible for storage, the system operator has enabled long-term revenues, which provide investment security for developers, investors, and asset owners.
In Germany, on the other hand, energy storage can yield attractive revenues from FCR, aFRR, and energy trading on the wholesale markets. In 2022, Germany joined the PICASSO platform, so storage assets participate in an overhauled automatic Frequency Restoration Reserve market. The new rules include capacity and energy payments, which in Germany can result in €115k/MW installed/year according to Clean Horizon. While market participants were still waiting for long-term revenue streams to be established, high volatility due to an increasing share of renewables has allowed for an attractive business case.
There are clear indications in the market that the revenue stack for storage assets in Sweden and Finland will soon be complemented by new income streams. Despite overall low power prices, the past year has shown remarkable spikes in the wholesale markets. The Day-Ahead market is seeing high volatility with prices around 350 €/MWh in SE3, SE4, and Finland. And naturally, even higher spikes are visible in the Intraday market. Very recently, the tripping of two nuclear power stations in the SE3 bidding zone in South Sweden led to Intraday prices going up to €400/MWh. Although the value of trading in wholesale markets is limited by abundant hydro and nuclear power, dry summers and mild winters are weakening their dominance. Storage will become a viable option to bring socio-economic value by providing power short-term to avoid fossil generators being switched on, hence keeping power prices low.
Last Year's Weekly Day-Ahead Prices for Swedish & Finnish Trading Zones
Source: Nord Pool 2023 (Access: 17.05.2023)
Furthermore, the granularity of imbalance settlement will be switched from one hour to 15 minutes settlement at the end of May 2023. Imbalance power is procured after gate closure. The purpose of this change is to make better use of the flexibility in the market. This change will be followed by the introduction of 15-min imbalance prices in Q2 2024. In parallel, 15-min resolution in cross-border intraday trade will be implemented. These new market rules will facilitate the participation of energy storage in imbalance management and wholesale markets.
Nordic TSOs are also currently undergoing consultation about their aFRR participation to join the PICASSO balancing energy platform. This could lead to a significant push for storage assets like in Germany.
Finally, just like Great Britain, Germany, and Spain, Sweden and Finland are facing challenges on the transmission grid, which they could overcome with energy storage. The spread between high-load areas and remote areas with high generation is causing serious transmission challenges such as heavily loaded wires between those centers. Fingrid is already looking for solutions for its West-East transmission gap; and it will only become more serious over the coming years as wind generation will be increased by around 10-15 times, mainly in the windy west of Finland. Sweden is facing serious infrastructure issues for its North-South transmission. There is a clear need for Svenska Kraftnät and Fingrid to modernize grid infrastructure, stabilize the grid, and increase capacity in their transmission grid. Yet again, it is worth looking at the examples in other countries to understand the powerful role of energy storage in solving transmission challenges.
Energy storage is an essential addition to Sweden and Finland's energy system to transform it into Europe's clean energy hub. Based on experience from other European countries, there is a clear path for how energy storage will add value to the power market through frequency regulation, wholesale arbitrage, and imbalance management. Storage assets can also be a powerful tool for overcoming transmission challenges. As an experienced technology provider with a strong Nordic and global presence, Fluence is taking a stake in the region's transformation process.
Want to learn more about the business case for energy storage in the Nordics and our role in that energy storage market?
1 According to WindEurope, Finland accounted for 13% of total wind installations in Europe last year. (Tamarindo 2022) Fingrid forecasts that the wind and solar capacity of the Nordic synchronous region will triple by 2030, increasing from 13% to 40%. (Fingrid 2022)
Note: In this article, "the Nordics" is referring to Finland and Sweden only.