- PRESS RELEASE -
Paired with Kilathmoy wind project, 11 MW battery will provide split-second grid reliability.
ARLINGTON, VA - January 8, 2020 - When Ireland's first-ever battery-based energy storage project goes online in the coming weeks, the 11 megawatt (MW) installation in Co. Kerry will be guaranteed to deliver a response to any power fluctuations on the grid in 150 milliseconds – about one sixth of a second – or less.
The need for speed is critical to Ireland's ambitious vision for Delivering a Secure Sustainable Electricity System (DS3), under which 70 percent of the Republic's power is slated to come from renewable sources by 2030. Fluence, a leading global provider of energy storage technology and services, is partnering with Statkraft Ireland on the project, which is located in Kilathmoy and also includes 23 MW of onshore wind.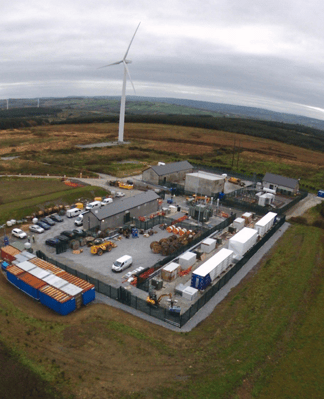 Wind turbine and storage at Kilathmoy (Courtesy of Statkraft)
Now in its fifth generation, Fluence's advanced, grid-scale energy storage technology will provide flexible capacity, reactive power and, at Kilathmoy, split-second system support for Ireland's electric grid as it integrates increasing amounts of intermittent renewable energy.
The 150-millisecond response time, driven by DS3, is "among the fastest and most stringent we have seen anywhere, and therefore has the potential to provide premium value when needed," said Paul McCusker, Fluence Vice President for Europe, Middle East and Africa. "Ireland and Statkraft are providing a model for the world of the rapid energy system transformation that is possible with a combination of smart policies and innovative business and technology solutions."
Norway-based Statkraft, Europe's largest generator of renewable energy, is contracting with EirGrid, the Republic's grid operator, to provide reserve power to the national electricity system specifically in the event of a sudden drop in supply.
"This project continues our growth trajectory while complementing our extensive renewable development plans," said Kevin O'Donovan, Managing Director for Statkraft Ireland. "The Irish electricity grid is operating successfully with renewable energy levels of up to 65 percent at any given time, which proves we are not that far away from having a grid system which can be run almost exclusively on renewable energy."
In fact, according to EirGrid, Ireland set a new record of 4,000 MW of wind generation, covering 72 percent of demand across the island on Dec. 18. However, according to the EirGrid website, the 2030 target of 70 percent renewables will require the grid to handle about 95 percent intermittent wind and solar at different times, making energy storage even more essential for system decarbonization.
A joint venture of Siemens and the AES Corp., Fluence has been an active player in the transformation of electricity networks in Ireland and the UK for the past five years, McCusker said. While Kilathmoy is the company's first energy storage project in the Republic of Ireland, members of the Fluence team installed a 10 MW energy storage system at Kilroot in Carrickfergus, Northern Ireland in 2015, and continue to maintain the project. More recently, Fluence deployed three 20 MW storage projects in Great Britain. Designed to provide grid flexibility, these projects are the first half of a 120 MW storage portfolio for Sembcorp Energy UK, representing one of the largest fleets of its kind in Europe.
Dublin also hosted the first Fluence annual meeting in January 2018, when the energy storage teams from Siemens and AES merged to launch the new company, McCusker said.
"We are committed to building on our long track record with the Irish Single Electricity Market and want to keep working with this forward-looking market and all its stakeholders as they move toward a clean, decarbonized and sustainable electricity system," he said.
About Fluence
Fluence, a Siemens and AES company, is the global market leader in energy storage technology solutions and services, combining the agility of a technology company with the expertise, vision, and financial backing of two well-established and respected industry giants. Building on the pioneering work of AES Energy Storage and Siemens energy storage, the company's goal is to create a more sustainable future by transforming the way we power our world. Providing design, delivery and integration, Fluence offers proven energy storage technology solutions that address the diverse needs and challenges of customers in a rapidly transforming energy landscape, The company currently has more than 1.5 gigawatts of projects in operation or awarded across 21 countries and territories worldwide. Fluence topped the Navigant Research utility-scale energy storage leaderboard in 2018 and was named one of Fast Company's Most Innovative Companies in 2019.
To learn more about Fluence, please visit: fluenceenergy.com.
About Statkraft
Statkraft is a leading company in hydropower internationally and Europe's largest generator of renewable energy. The Group produces hydropower, wind power, solar power, gas-fired power and supplies district heating. Statkraft is a global company in energy market operations. Statkraft has 3,600 employees in 16 countries. Last year, it produced 62 terawatt hours of electricity, enough to supply more than 60 million homes, 98 per cent of which came from renewable sources. Ireland is one of the selected new growth markets for onshore wind in Statkraft. The company employs 50 people here. It already owns and operates 12 wind farms in the UK and the Nordics with a combined installed capacity of over 1,000 MW. Furthermore, Statkraft is the majority owner of the 1,057 MW Fosen Vind project under construction in Norway, Europe's largest onshore wind project.
In 2018, Statkraft acquired 100 per cent of the shares in Element Power's Irish and UK subsidiaries. The company's global ambition is to increase its portfolio of wind power assets to 6,000 MW and solar power assets to 2,000 MW by 2025.
Media Contacts
For Fluence
Alison Mickey, Director of Communications, Fluence
E: alison.mickey@fluenceenergy.com
For Statkraft Ireland
Seán Perry, Keating & Associates