Recent global crises—from the COVID-19 pandemic to the Ukraine war—have shined a spotlight on vulnerabilities in the global supply chain. Additionally, looking to the future, increasing competition between the energy storage and electric vehicle supply chains could constrain battery availability and leave less-experienced players scrambling to secure the needed supplies to meet demand. To put this increasing competition into perspective, a 2022 analysis by the McKinsey Battery Insights team projects that the lithium-ion battery chain, from mining through recycling, could grow by more than 30 percent annually, reaching more than $400 billion and 4.7 TWh, through 2030.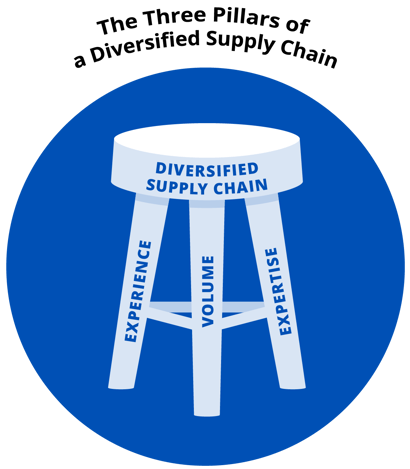 As witnessed through the pandemic, supply chain disruptions can significantly impact a planned energy storage project, from pricing to completion timelines and beyond. By taking a proactive approach of working with an energy storage provider such as Fluence that utilizes supply chain diversification, you can more effectively mitigate unforeseen risks—whether linked to a global crisis or caused by other factors—and keep your project on track.
The ability to establish a diversified supply chain can be viewed as a three-legged stool built on the pillars of experience, volume, and expertise. In this article, we examine these essential pillars and why choosing an energy storage provider with a diversified supply chain matters. We also provide insights on how Fluence is transforming supply chain from a challenge to a competitive advantage.
Supply Chain Diversification Pillar #1: Experience
The world is increasingly turning to energy storage as a key enabler of the global energy transition. As an example, the International Energy Agency Net Zero Emissions by 2050 Scenario shows the need for a significant uptick in grid-scale energy storage deployments to an average of over 80 GW per year through 2030.
With this growth and as the storage industry matures, research analysts expect an increasingly competitive market favoring leading energy storage providers that are globalizing and that can offer more cost-effective solutions based on the scale of their operations and supply chain partnerships. This leaves developers with essential questions regarding the selection of a storage provider that can serve as a trusted long-term partner in delivering your planned project.
When evaluating energy storage providers, experience matters. This is particularly true from a supply chain diversification perspective. Experienced storage providers have established partnerships with trusted suppliers. Through those partnerships, storage providers can secure capacity commitments from their ecosystems of suppliers to ensure they have the supplies available to meet customer needs.
Experienced energy storage providers also understand the importance of developing a global supply chain with a regionally focused operational model. With this diversification strategy, providers partner with innovative suppliers and assemble products in proximity to major markets. From Fluence's perspective, this creates a strong foundation for new product introductions and regionalized supply chains, and strengthens our commitment to serving as lifecycle partners for our customers.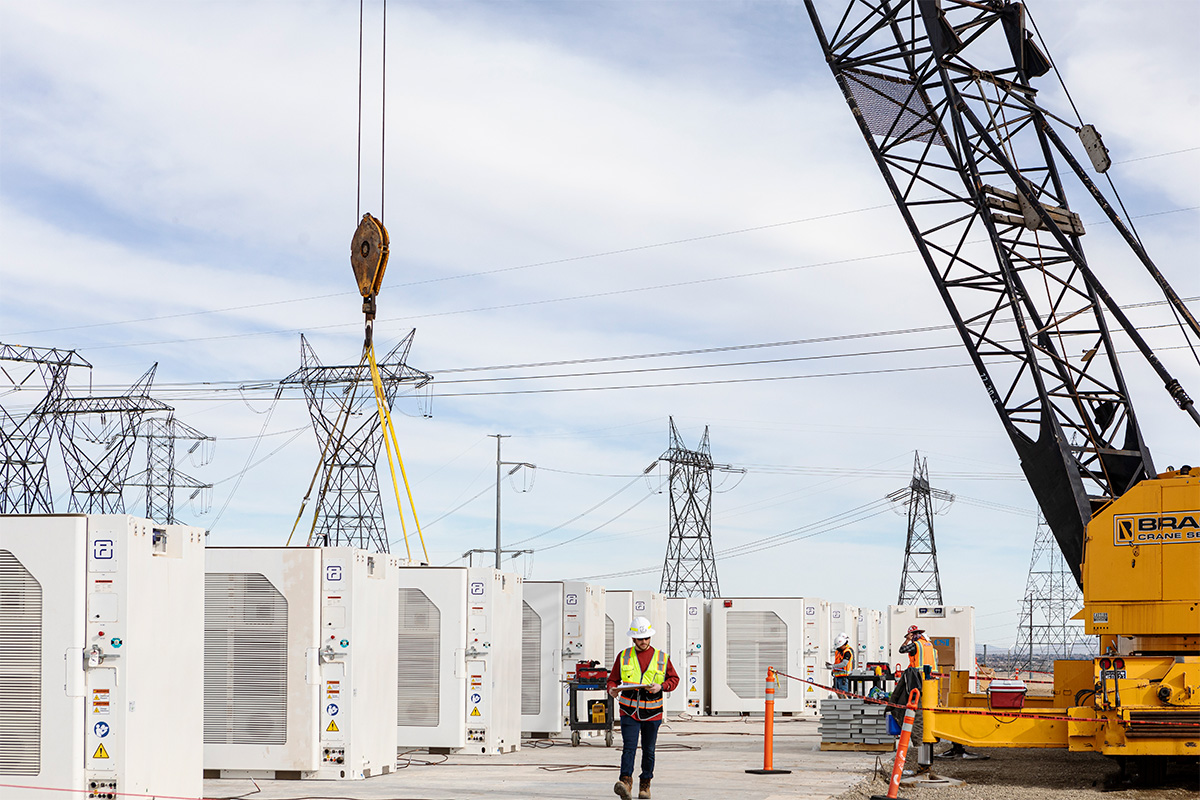 Supply Chain Diversification Pillar #2: Volume
The second essential pillar that enables a diversified supply chain is volume. In an increasingly competitive supply chain environment, the volume of orders in an energy storage provider's pipeline is an essential element for building long-term supplier partnerships.
Storage providers with strong global project pipelines and track records of successful project deliveries have demonstrated their ability to fulfill commitments. These qualities showcase market leadership, a long-term commitment to the industry, and a focus on customer partnerships. These qualities also help storage providers gain the trust and partnership of quality suppliers.
From a supply chain diversification perspective, storage providers with strong project pipelines are more likely to:
Successfully navigate supply chain disruptions
Incorporate lessons learned to strengthen supply chain strategies
Be selective by only working with high quality suppliers
Capture public policy incentives through regionalized manufacturing strategies
Secure more attractive pricing agreements
As one additional note on the importance of volume—energy storage providers with strong project pipelines have been through the trenches of navigating supply chain challenges. Volume brings experience and experience brings the ability to strengthen internal systems through lessons learned.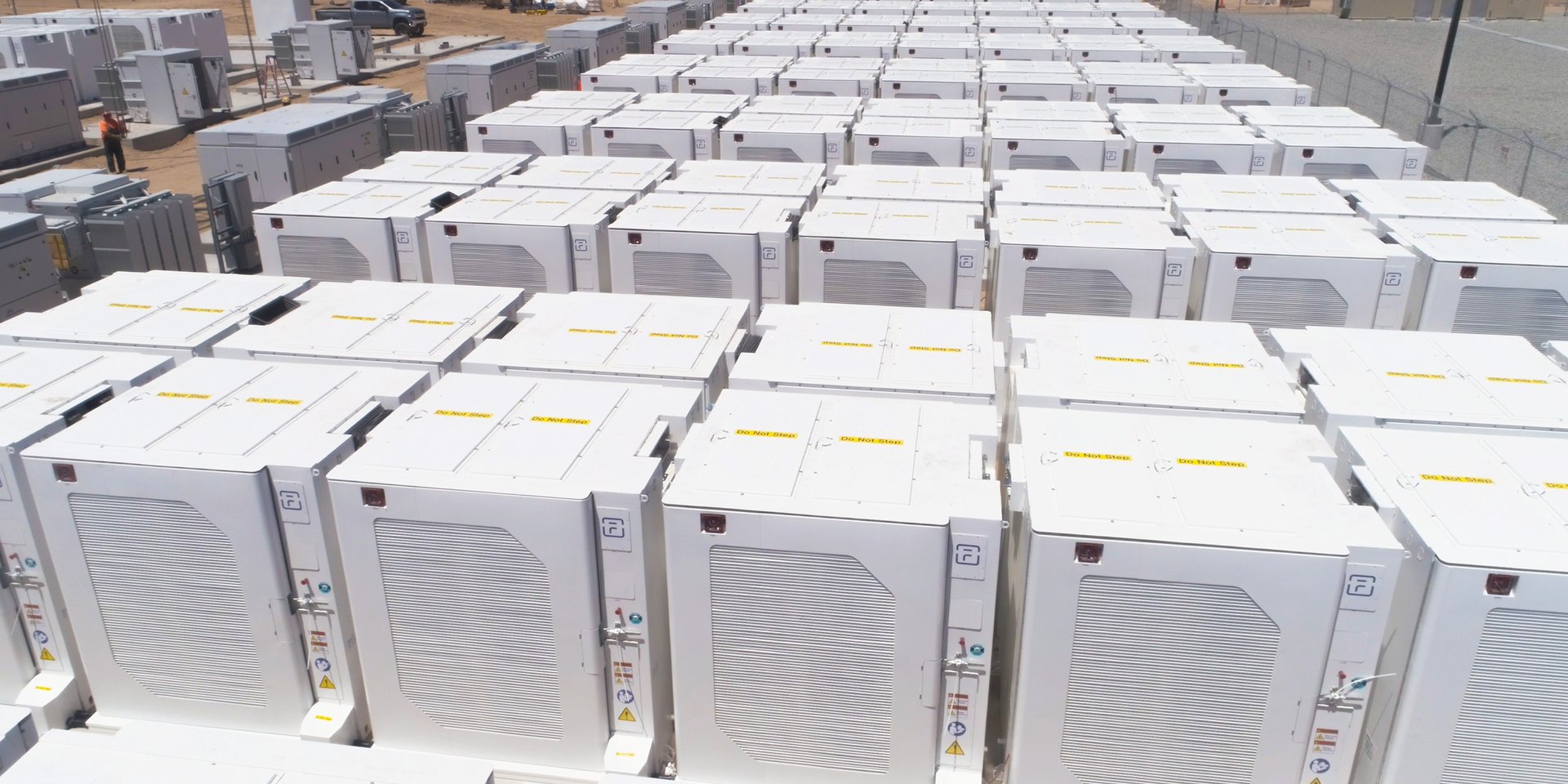 Supply Chain Diversification Pillar #3: Expertise
Experience matters, but expertise is key. Partnering with an energy storage provider that has in-house supply chain expertise brings the ability to navigate unforeseen challenges and mitigate risks. Energy storage providers with in-house expertise maintain robust supplier onboarding and auditing processes as well as risk management strategies. These processes can:
Supply chain diversification doesn't just involve ensuring that the needed supplies are available to meet customer demands (although this is, of course, essential). Rather, supply chain expertise extends to developing:
A robust onboarding and validation process
Responsible sourcing strategies
Third-party auditing processes
A supplier code of conduct that outlines expectations of supplier business conduct
Looking internally at Fluence, our team has more than 15 years of energy storage deployment experience in more than 40 markets globally. We have successfully navigated supply chain constraints linked to the pandemic and other global crises. Through this expertise, we continually incorporate lessons learned in our supply chain strategies. We also recognize that our extended supply chain is a critical link between Fluence and our customers, ensuring that our products are delivered at the highest quality and ethical standards. For more information regarding our supply onboarding and validation process, as well as information on our responsible sourcing strategy, read the Responsible Sourcing section within our inaugural Sustainability Report.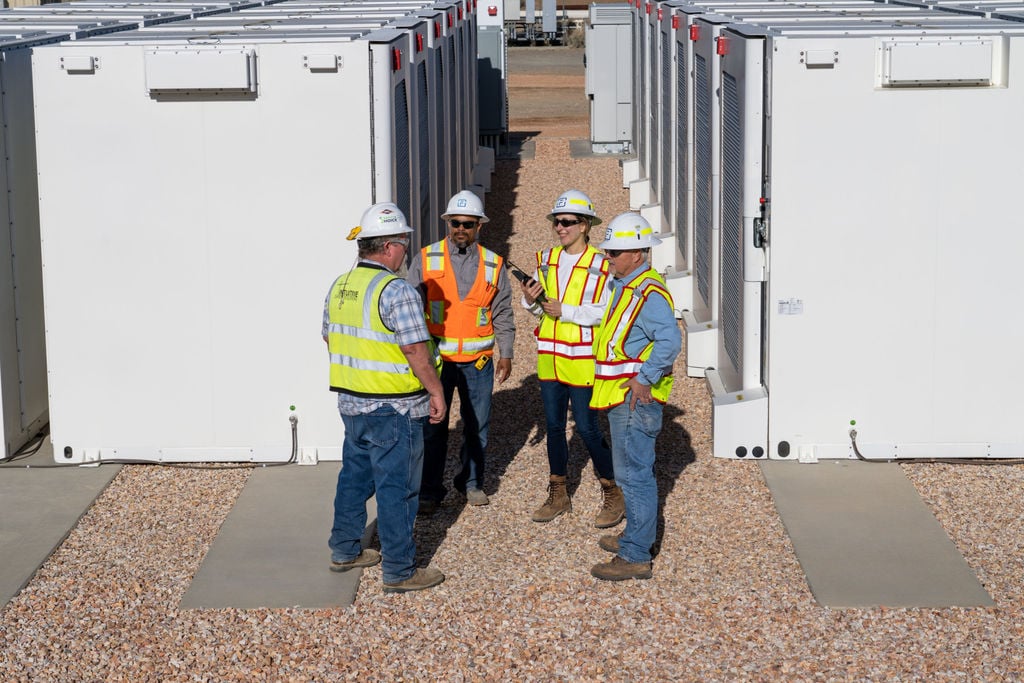 As a global market leader, Fluence is strategically regionalizing and diversifying our supplier base to effectively manage current and future supply chain constraints. Our recently-launched U.S.-based manufacturing facility in Utah, spare parts hubs, and our global network of product testing labs equip Fluence to support energy storage customers with increased speed, expertise, and flexible support throughout the product lifecycle. In addition, Fluence-made battery packs, to be developed in the U.S. consistent with Inflation Reduction Act guidelines, will allow greater global supply chain flexibility to best serve customers with rapid energy storage deployment.
In summary, supply chain diversification reduces risk and increases resilience. In essence, the greatest risk of supply chain diversification is not implementing it. As outlined in the sections above, partnering with an energy storage provider with a diversified supply chain that is achieved through experience, volume, and expertise isn't just important, it's essential.
Want to learn more about Fluence's industry-leading energy storage solutions?