This is the second deep dive in our four-part series that explores why battery-based energy storage is key to addressing Southern Europe's grid flexibility challenges. This article delves into the intricacies of the Italian energy market and how the current high reliance on gas-fired power generation puts the country's decarbonization targets at risk and impacts consumer energy bills. It also explains why the expected increase in renewable generation requires bold grid innovation.
The Impact of Reliance on Gas-fired Power Generation
Italy plans to cut greenhouse gas emissions by 60 percent by 2030. However, gas-fired power plants were around 39 percent of the country's installed capacity for electricity generation in 2021 and, in 2030, will still be at 28 percent. Italy's existing and future dependence on gas-fired power generation, and therefore on the price of gas, makes it vulnerable to commodity price swings and impacts the economy as witnessed through the current energy crisis. For example, Italian spot power prices reached a record high of €543.15/MWh in August 2022 when wholesale gas prices also peaked.
Nevertheless, Italy's renewable power base is growing. Over the first nine months of 2022, Italy added 2 GW of renewable energy capacity, more than 80 percent of which was solar PV, according to the Italian grid operator Terna. To achieve Fit-for-55's renewable energy goals, Terna expects that Italy will need 100 GW of solar and wind power plants operational by 2030 (around 65 percent of total electricity generation), foreseeing an enormous growth in intermittent electricity generation on the system.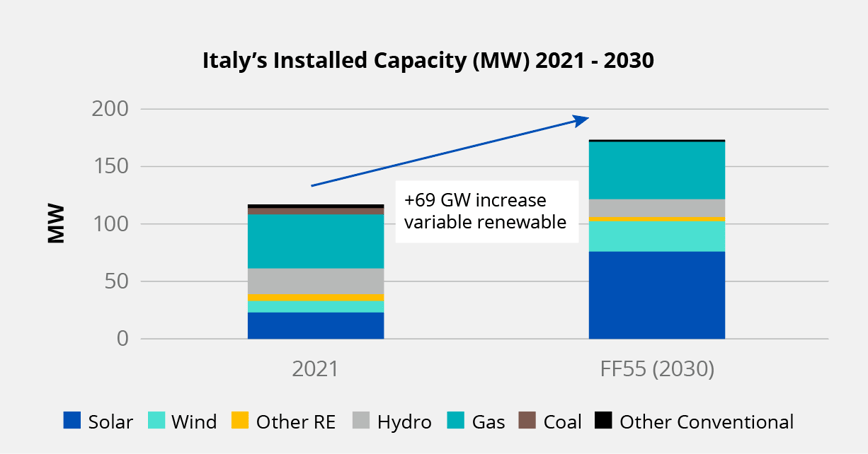 Source: Terna (FF55 – Fit-for-55 scenario)
As in other large countries expecting high renewable energy penetration, this poses an immense challenge to the grid since the majority of Italy's renewable energy will be generated in the south, while demand centers are located in the north. Afry Management Consulting expects that in a scenario where 70 percent of Italian power is provided by renewable sources, the north-south network will be congested for 43 percent of the day despite planned transmission capacity improvements. While this kind of transmission congestion is not uncommon, such as between the north and south of Germany, Italy also faces the geographical challenge of being a peninsula. This significantly limits transmission corridors and energy flows with neighboring countries.
Italy's growing intermittent power influx and its costly dependence on gas require an urgent solution. Many of the challenges posed by these issues can be addressed by building out large-scale energy storage capacity. At Fluence, we have called for an EU-wide reform of the power markets to increase storage capacity to better integrate and manage the enormous amount of fluctuating renewable power expected to pour into European electricity networks.
Within Southern Europe, Italy is already the leading market for large-scale energy storage systems, holding fast reserve and capacity market auctions which have demonstrated strong developer interest in building new storage capacity. The country aims to deploy around 94.7 GWh of storage capacity by the end of the decade compared to around 1 GWh currently in place.
Expected Energy Storage Installed Capacity (GWh) by 2030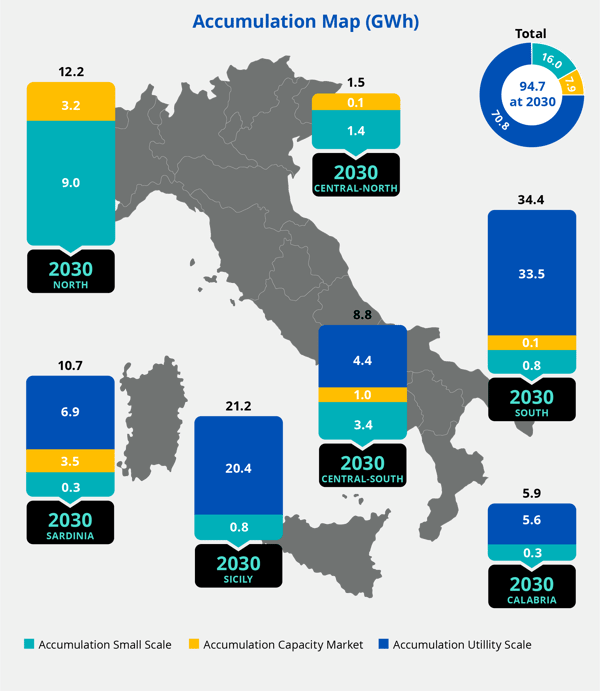 Source: Terna
Furthermore, Italy began leading innovation in this field at the European level almost one decade ago via Terna's storage lab. The storage lab included testing pilot projects where various types of storage technologies and sizes were deployed across sites in Sicily and Sardinia to learn about grid operation in a future energy system dominated by fluctuating renewable assets.
Cleaning up Peaking Capacity
Italy's energy system and its consumers will benefit hugely from an energy storage capacity build-out. In addition to offering a tool to store renewable energy at times of overproduction, energy storage will also help soften the role that gas-fired power plants are currently playing as must-run capacity. Must-run capacity is defined as power plants which are required to operate for system stability reasons related to frequency regulation, voltage regulation, or inertia requirements. As they "must run" they are blocking the grid for additional renewable energy, resulting in renewable curtailments.
Energy storage can also take over the role of providing reliable peak-time generation and system stability operations which have traditionally been provided by fossil fuel power plants. Instead of burning fossil fuel resources, storage can discharge previously charged renewable energy, reducing potential renewable curtailment when renewable production surpasses demand.
The deployment of storage as a peaking asset has a price dampening effect on wholesale markets, as storage charges electricity during times of low prices and discharges it again during peak consumption periods with high prices. Supply curves are much steeper during periods of high prices in wholesale markets, as additional electricity is produced at ever increasing prices. Moving even a limited amount of electricity from low to high price periods has a huge leveraging effect on clearing prices in wholesale markets and therefore overall cost of energy.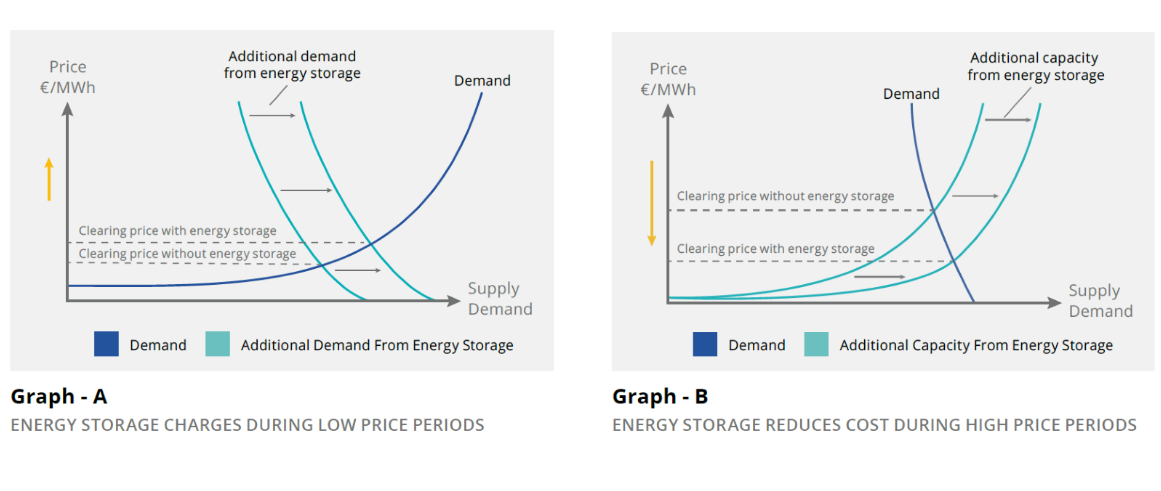 Source: Reforming European Market Design: Integrating Renewables to Decarbonise the Power Sector
Replacing Fossil Fuel-Based Inertia
Fossil fuel power plants have also traditionally offered inertia to the grid, provided by rotating masses of large generating units that underpin the stability of the grid. Renewable power that is fed via inverters to the grid, like solar or wind, doesn't provide similar levels of inertia, an issue which will be increasingly pressing for Italy that has long depended on large conventional power plants. Here, energy storage can also help by delivering synthetic inertia. Fluence is building such a project in Australia to support grid-forming capabilities through inverters operating as a voltage source. In the UK, the System Operator National Grid ESO has, over the last three years, procured inertia and short-circuit power via the Stability Pathfinder program. This showcases both the need for inertia in markets with increasing renewable generation and also how such products can be procured via competitive tenders.
Overcoming the South-North Divide
For Terna, the aforementioned north-south divide between generation and demand offers an additional challenge exacerbated by growing renewables, similar to Germany's experience, only in reverse direction. Also here, energy storage solutions can bring significant improvements, as demonstrated by the German TSO TransnetBW by procuring the world's largest battery-based energy storage-as-transmission asset. This will allow an increased utilization and more efficient operation of existing transmission lines and thereby lower preventative redispatch measures and curtailment of renewable energy, resulting in lower costs to consumers. The 250 MW Gridbooster project will also ease grid bottlenecks stemming from renewable energy transmission from the north to the south of the country and act as a back-up capacity within milliseconds in case of transmission failure in the existing lines.
Basic Principle of Reactive Grid Operation Concept (schematic)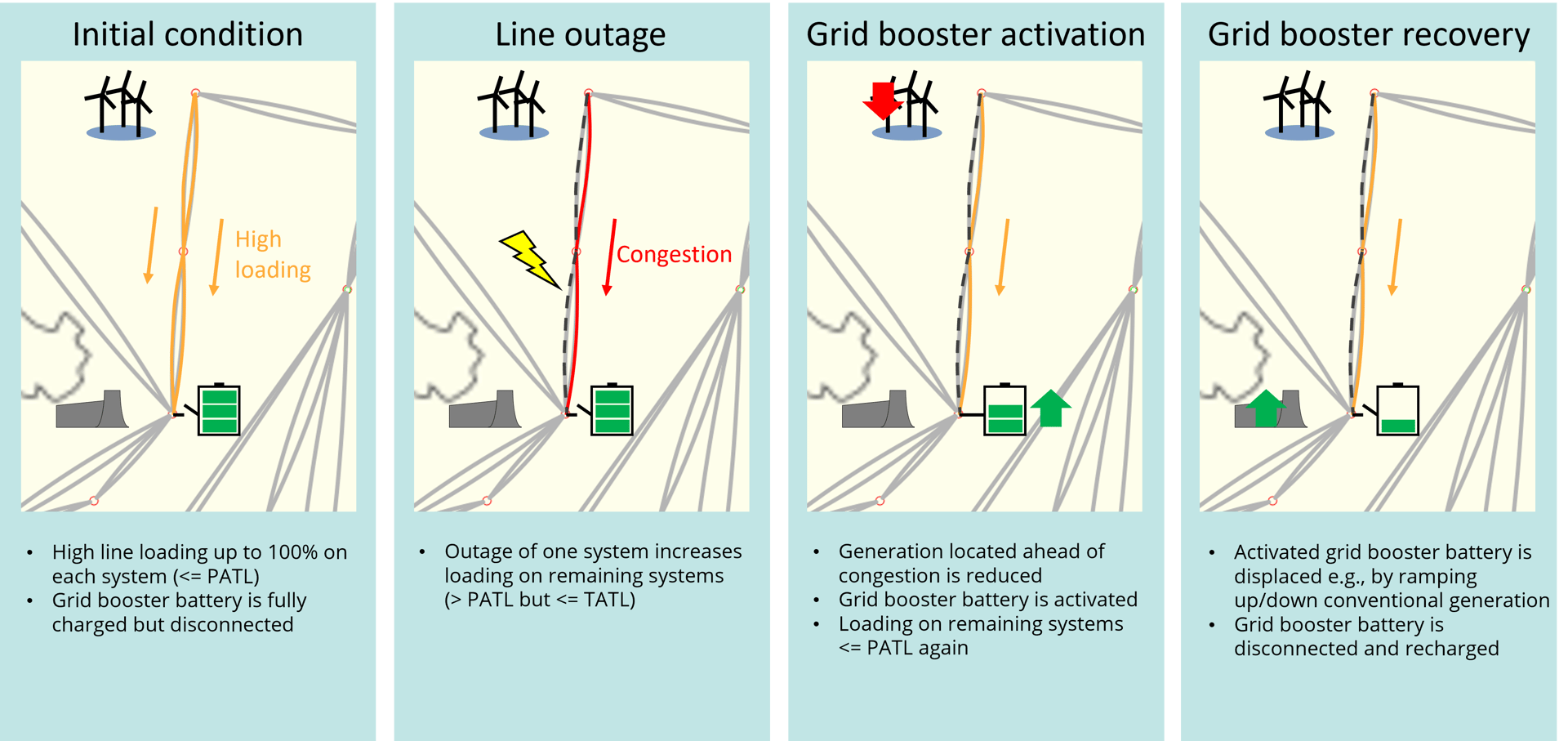 Source: Lowering Grid Costs by Increasing the Utilisation of Transmission Lines
In Italy, such a project would help to synchronize electricity prices across its various pricing zones by boosting liquidity and interconnection. As a result of more efficient network management, grid tariffs would drop, and end consumers would reap the benefit through lower bills.
Such a Gridbooster asset could reinforce and ensure optimal operation of the Tyrrhenian Link, an undersea high voltage direct current (HVDC) cable with an installed capacity of 2 GW expected to connect the islands of Sicily and Sardinia with the Italian mainland. This will contribute to the grid stability of the islands and to the integration of renewable energy produced there into the mainland's electricity system. Other Mediterranean Islands, like the Balearics are planning to use the Gridbooster concept to increase the efficiency and reliability of HVDC connecting them to mainland.
A Power Back-up by Severe Droughts
Another noteworthy element where energy storage can improve Italy's energy system is by backing up the power storage role that hydroelectric plants have been playing. Around 16 percent of Italy's installed power capacity comes from hydroelectric stations in the mountainous north. The ability of these stations to provide power storage services has been considerably hampered by droughts, a climate change-related risk that will only increase going forward. This summer's severe drought that hit Italy caused hydro power energy potential stored in water reserves in the north to sink to less than 50 percent of their normal levels.
Italy's renewable energy challenge hinges on its continued implementation of and support for energy storage systems. Energy storage can help bridge the north-south transmission divide, clean up peaking capacity, ensure grid stability, and complement challenged hydroelectric power storage. Not least, it will help reduce the energy system's reliance on gas plants and help achieve climate protection goals.
In our next deep dive, we will be analyzing Iberia's decarbonization challenges and how energy storage can play a key role in its energy transition.